If you want to reinstall macOS or need to restore your Apple Silicon M1 Mac when Mac is not turning on, Mac Recovery mode is a great tool to help you do these jobs.
What does the Apple M1 Mac Recovery mode do
Besides, as a built-in recovery system of your Mac, macOS Recovery mode can also help you:
Change a startup disk.
Transfer files from your Mac to another computer.
Fix the hard drive issues that caused Mac won't boot.
Change security policies for your Mac to allow desired third-party software to be launched.
Fix mac black screen, mac white screen, mac pink screen of death, mac stuck on the login screen, and mac stuck on loading bar issues.
How to boot into macOS Recovery mode on M1 Mac
However, when you pressed the Command and R keys together during startup, your M1 Mac failed to enter recovery mode. What happened?
The processor on M1 Mac is different from the one on the Intel-based Mac. Therefore, the previous commands will no longer be recognized and executed on Apple M1 Mac with the new CPU architecture.
To enter into macOS Recovery mode on M1 Mac, including M1 MacBook Pro, M1 MacBook Air, and M1 Mac mini, you should:
Turn on your Mac and continue to press and hold the power button until you see the hint "Loading startup options".
Select the gear icon indicated

Options

and click

Continue

.
Type your admin password when required.
Then, you'll see the following four recovery options showed on the screen:
It means that you've entered into macOS Recovery mode on M1 Mac. If you want to boot into Internet Recovery mode on M1 Mac, you need to connect to the internet.
• How to Fix Mac Recovery Mode Not Working
By the way, the way to enter recovery mode on an Intel-based Mac is different.
Press and hold the 

Command

 + 

R

 keys when reboot your Mac.
Release the keys until you see the spinning globe.
When you see the macOS Utilities window, it shows that you are in recovery mode.
How to use the utilities in macOS recovery mode on M1 Mac
In macOS Recovery mode, you'll see a range of available apps. And every app plays a part in the corresponding field, while they can also work together to troubleshoot your Mac and let it back to normal.
Learn more about macOS Recovery mode on different Macs from this video: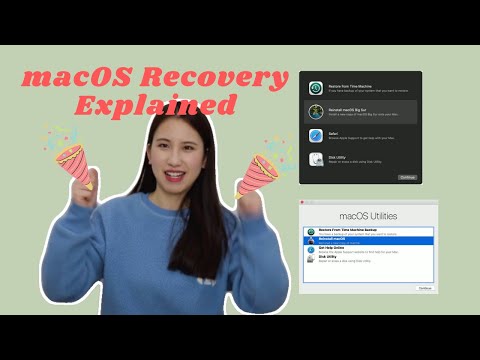 Restore from Time Machine
This app used to restore your lost files, documents, folders, or other data from your Time Machine Backup. If your Mac won't boot and you've backed up your M1 Mac with Time Machine before, you can restore your Mac from Time Machine backup with this utility.
Reinstall macOS Big Sur
This utility helps you reinstall macOS Big Sur without data loss. All your personal data will still be kept on your M1 Mac after macOS reinstalling. Note, an internet connection is required for macOS installation.
Seclect

Reinstall macOS Big Sur

& click

Continue

.
Select your current macOS disk (Usually, only this disk available) to install the system.
Follow the instructions and then restart your Mac.
Safari
When you don't know how to solve some issues on your Mac, Safari can help you search for technical support information from the Apple Support website. Please make sure the internet is connected.
Disk Utility
In Disk Utility, you can erase, repair (Using First Aid), restore your hard drive, which may also help you fix some issues like internal hard drive not recognized, hard drive inaccessible, unmountable, or corrupted.
Select the target disk on the left side of the Disk Utility window.
Note: By default, only the system and data volumes are listed. Select View > Show All Devices to see all the volumes.
Click the features you need to use, including First Aid, Partition, Erase, Restore, and Unmount.
Follow the onscreen instructions.
Terminal
Terminal is a command line system, which can help you directly take control of your macOS and change some settings like resetting login password.
Click

Utilities

on the top of the screen and select

Terminal

.
Type the needed command line on the Terminal window to do the task.
Share Disk
When your M1 Mac won't boot, Share Disk can transfer your files to the other Mac to avoid data loss. To use this app, you need to prepare one more Mac.
Connect the two Macs via a USB-C or Thunderbolt cable.
Boot your M1 Mac into macOS Recovery mode.
Click

Utilities

on the top of the screen and select

Share Disk

.
Choose the disk you'll share files from and click

Start Sharing

.
On the other Mac, open

Finder

>

Network

. Next, double click your M1 Mac (which has the shared disk).
Click

Connect As...

and select

Guest

. Then, click

Connect

.
Then, the files will be transferred to the other Mac.
Startup Disk
If you have set two startup disks, you can use Startup Disk to change the startup disk for your M1 Mac. Open Apple menu > Startup Disk to have a set.
Startup Security Utility
You can use this tool to change the security policies to allow some third-party software to be installed on your M1 Mac.
Select

Utilities

>

Startup Security Utility

.
Select the system (the startup disk) you want to set the security policy.
Choose

Reduced Security

and click

OK

to save the setting.
Note: If you only allow Apple's currently trusted third-party software to be installed, you need to check Full Security here.
When you are done in the macOS Recovery mode, you can click the Apple menu > Restart or Shut Down to quit from the recovery mode.
Erase your M1 Mac and reinstall macOS
Sometimes, you want to reset your M1 Mac after you've run into issues like Mac frequent crash or Mac can't startup. In such a situation, you need to boot into macOS Recovery mode and erase your disk first.
Take care that erasing the disk will make data loss. If you've backed up your Mac with Time Machine before, you can restore your Mac with Time Machine backup after disk erasure.
To erase the disk, you should:
Select

Disk Utility

and click

Continue

.
Choose the system volume (Labled "Macintosh HD" by default) on the left side of the Disk Utility window.
Click the

Erase

feature you'll see the following hint:
Erasing "Macintosh HD" will permanently erase all data stored on it. You can't undo this action.
The system "Macintosh HD" is a member of a volume group, a set of volumes containing macOS and user data, including the data volume "Data". You may erase just the system volume or all the volumes in the group.
If you choose Erase Volume Group, it will erase all data include your personal data (Usually stored in the Macintosh HD-data volume) on your Mac. While select Erase, it will only erase the system-related data (data stored on the Macintosh HD volume).
Before selecting Erase Volume Group or Erase, set a name for the volume and select APFS as the file system of the volume.
After the disk has been erased, the next is to reinstall macOS.
However, if you erased your M1 Mac before updating to macOS Big Sur 11.0.1, the system reinstalling process may be prevented by an error message, which reads like "An error occurred while preparing the update. Failed to personalize the software update. Please try again." You can use the Apple Configurator 2 on the other Mac to revive or restore your M1 Mac.
macOS Recovery mode likes a troubleshooter when your Mac has problems. It offers you chances to fix your unbootable Mac with a series of recovery options. And since the M1 Mac recovery mode has made some changes, you'd better learn in advance for further use.