Summary: Here's a detailed tutorial on how to enable System Extension on your M1 Mac. That helps fix the "System Extensions Blocked/Updated" error when installing the software on M1 Mac.
Want to fix the "System Extensions Blocked/Updated" error on your Apple Silicon M1 Mac? Here provides a detailed tutorial on how to enable System Extensions on your M1 Mac computer.
If you have any trouble enabling the system extensions, this article also has answers and fixes to help you out.
If you lost the data from hard drive, external hard drive, SD card, etc., a professional data recovery software: iBoysoft Data Recovery is highly recommended.
How to Enable System Extensions on M1 Mac?
Watch our video to enable system extension on M1 Mac: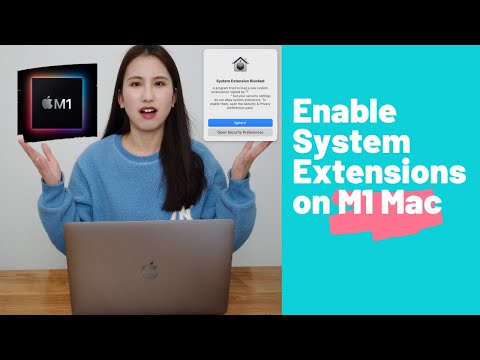 Tutorial to enable system extensions on M1 Mac:
1. Make Sure your Mac is Apple Silicon M1 by checking the processor in About This Mac.
2. After installing iBoysoft NTFS for Mac, click

Open Security Preferences

when you see a

System Extension Blocked

pop-up.
3. Click the Lock to make changes in Security & Privacy and enter the requested admin password.
4. Click

Enable System Extensions

. If the option is

Allow

in Security & Privacy, please jump to Step 12.
5. Shut down your Mac and press the Touch ID button adn then quickly hold it downs until it says "Loading up startup options".
6. Click

Options

and then click

Continue

to boot the M1 Mac to macOS Recovery Mode.
7. Select

Startup Security Utility

from Utilities menu.
8. When you see the startup disk, click it and click on

Security Policy...

9. In Startup Security Utility, choose

Reduced Security

and check the option:

Allow user management of kernel extensions from identified developers.

.
10. Click

OK

, enter correct admin password, wait until the security level change completes and restart the Mac.
11. Open Apple logo >

System Preferences

>

Security & Privacy

and under

General

tab, click the yellow Lock to verify administration.
12. Click

Allow

in the context window.
13. Restart your Mac to finish installation.
FAQ
1. Is it safe to play around with Mac's default security settings and enable system extensions?
If the software you are installing requires reduced security for installing kernel extensions, it is safe. That's because only Apple identified and trusted developers can ask you to enable system extensions and their software will never compromise the overall security.
2. Am I supposed go back to Full Security to protect the computer after software installation is complete?
No, you do not need to go back to high security after you have changed to Reduced Security for enabling system extensions. Otherwise, your newly installed software won't run properly with system extensions blocked.
3. If I uninstall the software, do I need to switch to default again? How can I do that?
If you uninstall the software that requires system extensions on M1 Mac, it is suggested that you switch to the default Full Security to better protect your computer. You should boot your Mac in Recovery Mode again and then select Startup Security Utility > Security Policy > Full Security > OK. Then restart the Mac.
4. When I confirm reduced security, it says "No administrator was found", how to fix?
Even though you already have an admin account, this may still happen. You just need to create a temporary new admin account to bypass the issue. Follow the steps below:
Start your Mac normally to the desktop.
Go to Apple logo >

System Preferences

>

Users & Groups

.
Unlock the yellow lock at the right bottom with your admin password.
Click

+

to add a new admin account and click

Create User

to confirm.
Shut down the Mac, boot the Mac into Recovery Mode and then reduce security with the newly created admin account.
Delete the new admin account after your Mac restarts.
5. The startup Security Utility only shows "Change Password" & "Turn Off Firmware Password" option, what to do?
You are using an older Intel Mac instead of an M1 Mac. You do not need to change the security policy in Recovery Mode to allow system extensions. Just open Apple logo from the desktop > System Preferences > Security & Privacy > Allow.
6. Why can't I enable system extensions on M1 Mac?
Many users have trouble enabling system extensions on M1 Mac running macOS Big Sur 11.0 or macOS 11.1, so it is highly recommended that your Apple Silicon Mac should be running macOS 11.2 or later.
7. When I go to the Startup Security Utility and I get a pop-up saying security settings cannot be changed, what to do?
You enter the Fallback Recovery OS on an M1 Mac instead of regular macOS Recovery because you press down the Touch ID button twice quickly before pressing it down.
To enter the regular Mac Recovery Mode to change the security settings, you need to shut down the Mac, turn it on by pressing the Touch ID button ONCE and press down the Touch ID button until startup options shows up.
8. I didn't see Allow/Details button under General tab in Security & Privacy menu after doing these things, how to fix?
One reason could be the software is not compatible with the M1 Mac yet, and you should wait until the software updates.
The other most possible reason could be you have installed too many drivers like printer drivers on your computer. As a result, the about-to-install extensions can't be installed successfully. To remove unnecessary drivers:
Click Go at the menu bar on the desktop >

Go to folder

.
Type in

/Library/Extensions/

and press Return.
If you see 15+ files with .kext file extension, you have too many drivers on your computer. Right-click those you don't need and move them to the Trash.
Change the security level and see if the

Allow

or

Details

button appears.