How to Enable System/Kernel Extensions on Mac [M1/M2/Ventura]
Summary: Here's a detailed tutorial on how to enable System Extension on your Mac from the macOS Recovery environment. That helps fix the "System Extensions Blocked/Updated" error when installing the software on an Apple Silicon Mac.
When installing a third-party program or extension, the "System Extensions Blocked/Updated" error on your Apple Silicon Mac. Then you follow the onscreen instructions to bypass the system extensions block, only to find that another error window pops up saying "To enable system extensions, you need to modify your security settings in the recovery environment".
Table of Contents:
Confused? This article provides a detailed tutorial on how to enable System Extensions on your M1/M2 Mac computer successfully. The tricks apply to all apple Silicon Mac devices including:
MacBook Air (M1, 2020)
MacBook Pro (13-in, M1, 2020)
Mac mini (M1, 2020)
iMac (24-in, M1, 2021)
MacBook Pro (14-inch, M1 Pro/M1 Max, 2021)
MacBook Pro (16-inch, M1 Max/M1 Max, 2021)
Mac Studio (M1 Mac/M1 Ultra, 2022)
MacBook Pro (13-inch, M2, 2022)
MacBook Air (M2, 2022)
We advise you to check the FAQ sections to see if they clarify your concerns before attempting to install system extensions on Mac. All of those questions and concerns were from authentic YouTube users who wanted to know how to enable kernel or system extensions on an Apple silicon Mac.
And you also can share it with more people to help them out of the same trouble!
Note: If you lost the data from a hard drive, external hard drive, sd card, etc., professional data recovery software: iBoysoft Data Recovery is highly recommended.
How to enable system extensions on an Apple Silicon Mac - video tutorial
Watch our video to enable system extension on an Apple silicon Mac. The process is demonstrated on an M1 Mac running macOS Big Sur, and the procedure is almost the same for all Apple silicon Mac models. The software interface may look different on different macOS versions.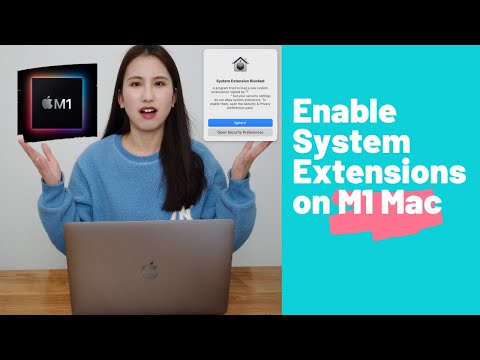 How to enable system extensions on M1/M2 Mac - text tutorial
If you prefer a text guideline, you can follow the steps below.
1. Check the processor in the Apple menu > About This Mac to see if you have an Apple Silicon chip on your Mac such as M1 or M2.
2. After installing iBoysoft NTFS for Mac or any other programs requiring macOS kernel extensions, click Open Security Preferences when you see a System Extension Blocked pop-up. If you inadvertently click the Ignore button to dismiss the pop-up, you can also find the Privacy & Security (Gatekeeper) settings in the Apple logo > System Preferences.
3. Scroll down to find the Security section and select Allow applications downloaded from App Store and identified developers.
4. Click Enable System Extensions.
5. When the pop-up shows "To enable system extensions, you need to modify your security settings in the Recovery environment", click the Shutdown button to turn off your Mac.
6. When your Mac is completely off, press the Touch ID button one time and then quickly hold it downs until it says "Loading up startup options".
6. Click Options and then click Continue to boot the M1 or M2 Mac to macOS Recovery Mode.
7. Select Startup Security Utility from the Utilities menu at the top of your screen.
8. When you see the startup disk, click on Security Policy...
9. In Startup Security Utility, choose Reduced Security and check the option: Allow user management of kernel extensions from identified developers.
Q: Is it safe to play around with Mac's default security settings and enable system extensions?
A: If the software you are installing requires reduced security for installing kernel extensions, it is safe. That's because only identified and trusted developers by Apple can ask you to allow system extensions. Their software will never compromise the overall system security.
10. Click OK, enter the correct admin password, and wait until the security level change completes.
11. Restart your Mac.
12. Go to Privacy & Security window again, and this time in the Security section:
Click the Allow button underneath System software from developer "Chengdu Aibo Tech Co.,Ltd." from loading.

If you have multiple system extensions to be enabled or updated, you will see the Details.. button instead, click it and switch on the system extensions you want to allow, and click OK.

13. You will be asked to enter your admin password.
14. Restart your Mac to make the change take effect and then finish installation if needed.
For more information about Macs with M1 or M2 chips, read this post: Mac M2 vs M1: Should You Upgrade to M2?
If this post is helpful, why not share it with your friends and families?
FAQs about enabling System Extensions on an Apple silicon Mac