What Is Mac Recovery Mode & How to Use It (Intel & M1/M2 Mac)
Summary: This tutorial introduces what Mac Recovery Mode is and how to start your Intel-based and Apple silicon Mac in macOS recovery to fix the problems existing on your Mac/MacBook.
Mac Recovery Mode is a very useful tool designed to recover your Mac. You can use it to reinstall Mac OS, perform disk checking and repair with Disk Utility, factory reset your Mac, restore your Mac with Time Machine backup or so.
Especially when your MacBook won't turn on normally or crashes frequently, macOS Recovery gives you a chance to do some fixes rather than directly taking your computer to service.
This post will tell you how to start Mac into Recovery mode and use it to troubleshoot Mac issues.
What is Mac Recovery Mode?
macOS Recovery is a special mode that starts your Mac from a built-in Recovery HD partition (or called macOS Base System) with a built-in program called Recovery Assistant.
In other words, it is a recovery system that can be loaded up without starting up Mac operating system, helping you fix or deal with system-related issues on your Mac, like the Mac white screen problem.
With it, you can perform basic troubleshooting and recovery activities on Mac, such as disk verification, OS reinstallation, and startup security modification.
Here's a video that explains in detail what Recovery Mode on Mac is. Watch it now to learn more.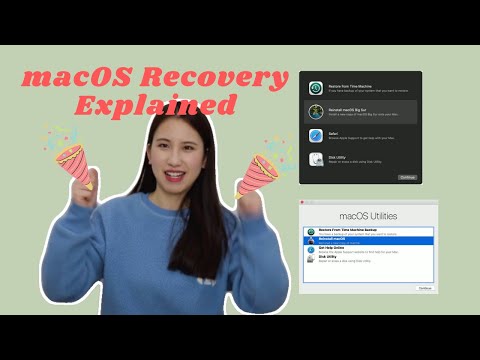 Share this helpful post with more people right now!
How to start your Mac in Recovery Mode?
The steps to enter into Mac OS Recovery Mode are different depending on the Mac model. Firstly, you need to know if you are using an Intel-based or Apple M1/M2 Mac.
Usually, to check the processor of your Mac model, you can click the Apple menu > About This Mac > Overview. Or, go to support.apple.com to have a check.
Follow the steps below to start your Intel-based Mac in Recovery Mode:
Completely shut down your Mac and then press the power button or Touch ID button to power on your Mac.
Hold down the Command + R keys together as soon as Mac starts or you hear the startup chime.

Keep holding down the keys for a few seconds until you see an Apple logo and release the keys to start your Mac in the Recovery partition.
You successfully boot into macOS Recovery until you see the utilities window with a few recoveries and troubleshooting features.
How to start an Apple M1/M2 Mac in Recovery Mode?
Macs with Apple silicon ask for a different set of operations. This process works for MacBook Pro 2021 with an M1 Pro or M1 Max chip and MacBook in 2022 with an M2 chip.
Before you take action, you'd better keep your Mac connecting to the Internet well. Why? The Internet Recovery Mode has been integrated with the regular macOS Recovery Mode on Apple M1/M2 Macs. If your M1/M2 Mac fails to start in Recovery mode, it will automatically enter into Internet macOS Recovery.
Here's how to boot an M1/M2 Mac in Recovery Mode:
Completely shut down your Mac.
Press and hold the Touch ID (the power button) for a few seconds until you see "Loading startup options".
Click Options next to the Mac's Macintosh HD disk and then click Continue.

Enter your admin name and password if asked and you will arrive at the Recovery Mode screen.
After you have entered your M1/M2 Mac Recovery Mode, you can finish a lot of tasks with the utilities provided.
Key combinations for booting into Recovery Mode on Mac
Apart from using the Command-R shortcut keys during startup to boot your Intel-based Mac into Recovery Mode, you can use other shortcut keys to enter Recovery Mode.
Pressing down which key combinations during Mac startup depends on what you'll do in macOS Recovery. For example, whether you want to reinstall the latest or older version of macOS.
Command + R
The two keys allow your Mac or MacBook to start from the built-in macOS Recovery. And if you prepare to reinstall macOS in MacBook Pro Recovery mode, it offers the version of macOS that your Mac is using.
Option/Alt + Command + R
Using Option/Alt + Command + R keys during startup will boot your Mac in Internet Recovery Mode. But the precaution is that your Mac is connected to the internet well. And if you want to reinstall macOS, it will supply the latest version of macOS that is compatible with your Mac.
Shift + Option/Alt + Command + R
If you hold down these shortcut keys when pressing down the power button with a good internet connection, your Mac will enter Internet Recovery mode. And the macOS version that you'll reinstall came with or closest to your Mac.
If these steps work, why not share?
What you can do in Mac Recovery Mode?
When you are in macOS Recovery Mode or Internet Recovery Mode, the normal desktop and often-used apps are not available. You are limited to a few tasks and options through the macOS Utilities, called Mac OS X Utilities on some older Mac OS versions, and tools in the top menu bar.
Depending on which Mac model you use, the utilities on your Mac may vary. Read below to see what you can do in macOS Recovery and Internet Recovery.
Restore From Time Machine Backup
If you have set up Time Machine to back up files and the system with an external hard drive before, you'll be able to restore Mac from Time Machine backup. The APFS snapshots of local Macintosh HD before macOS update could also be available for system restoration through this feature.
Reinstall macOS (or Reinstall OS X)
This function will allow you to download a fresh copy of Mac's operating system and reinstall macOS or reinstall macOS Big Sur on M1 Mac. The thumbnail shows which operating system will be installed on your Mac.
Disk Utility
Disk Utility in Recovery Mode Mac is a tool to verify, repair, and erase connected disks including Macintosh HD and external drives. You can use the Erase feature in the Disk Utility menu to format the Mac startup disk. Also, you can run Disk Utility First Aid to repair the disk.
Get Help Online/Safari
It allows you to visit Apple support pages or other web pages for information, but bookmarks, browser plug-ins, and extensions are not available.
Except for macOS Utilities, several other recovery tools are accessible from the menu at the top of the page.
Terminal
You can choose Utilities in the menu bar. And then select Terminal to open it and run commands to change settings or ask Mac to finish some certain task. For example, you can run a command to disable SIP.
Startup Security Utility
You can click Utilities > Startup Security Utility to set up the security protocols for your Mac. That is the utility you will rely on if you need to set a firmware password on Mac, allow Mac to boot from an external USB installer, or enable system extensions on M1 Mac.
Network Utility
It provides information and troubleshooting tools to help you with your network, including checking network connection and testing the DNS server.
Share Disk
This is the Apple Silicon Mac version of Target disk Mode. You can access it from Utilities > Share Disk on Apple silicon Mac to share your disk with another Mac for file transferring.
Startup Disk
You can choose startup disk for the Mac from the Apple icon > Startup disk. On Intel Macs, Target Disk Mode is available from there as well.
How to exit macOS Recovery?
Quitting Mac Recovery Mode is easy - you just restart the Mac from the Apple icon and select "Restart" in the menu.
If you have made any changes, repairs, reinstallation, or erasures in Recovery, they will take effect during the rebooting. If you just boot your Mac in Recovery and nothing is performed, your Mac will stay unchanged and reboot to the normal login screen or desktop.
What to do if Recovery Mode on Mac is not working?
If you can't start your Mac in the Recovery system, or macOS Ventura Recovery Mode is missing, it means that the Command R not working or won't respond correctly from your press. Or, your recovery partition might be corrupted. As a result, your Mac failed to boot from the recovery partition, and you may see the error code -2003F on the screen.
To solve the Mac Recovery Mode not working issue, connect your Intel-based Mac to the Internet. And try to hit down the Command + Option + R key combination and the power button to start your Mac in Internet Recovery.
For an Apple M1/M2 Mac, it can auto-boot into Internet Recovery when macOS Recovery not working. If it still fails, you can start the MacBook into Fallback Recovery OS, the second copy of macOS Recovery.
How to start Mac in Safe Mode & use it to fix Mac issues?
This article outlines everything you need to know about Mac Safe Mode, including its definition and methods to start Mac in Safe Mode and turn it off. Read more >>
Share this wonderful post with more people who encounter the same question.
FAQ about Recovery Mode Mac