It's any computer user's nightmare: your Mac won't turn on or can boot up but find data missing, deleted, or corrupted. Before you despair at having lost everything on macOS Big Sur, make sure you know macOS Recovery mode.
So what is macOS Big Sur Recovery mode, and how is it used?
macOS Big Sur Recovery mode is the built-in recovery system of your Mac loaded with macOS Big Sur. Recovery mode can help you troubleshoot Mac issues like restore a backup, reinstall macOS, repair or erase a hard disk, and more.
Recovery mode is also useful for restoring your computer to a blank condition. You will need it if you want to sell or give away your computer after deleting your previous files and settings.
Below, we'll go over how to use macOS Recovery mode and how its features can help you repair or restore your Mac.
How to enter macOS Big Sur Recovery mode
Entering macOS Big Sur recovery mode differs based on whether you have a new Apple M1-based Mac or an older Intel one. To find out which type of Mac you have, click the Apple symbol > About This Mac. Check the Processor, it will read either "Intel" or "Apple M1".
Booting into macOS Big Sur Recovery mode on an Intel-based Mac
To boot into recovery mode on an Intel-based Mac, restart your Mac and then press and hold one of the following key combinations. Then, release the keys when you see the spinning globe icon.
Command

+

R

: This command starts up from the built-in recovery system. You can use this key combination to access the different apps in Mac Recovery mode or reinstall your current macOS version.

Option

+

Command

+

R

: This command starts up over the internet and requires a Wi-Fi or Ethernet connection. You can use this command to upgrade to a newer version of macOS, which requires an internet connection.

Shift

+

Option

+

Command

+

R

: This command combination reinstalls the earliest version of macOS available or the one that came with your computer.
After that, you may be asked to choose a Mac volume if you have multiple installed. You also may be required to type the password on your administrator account.
Booting into macOS Big Sur Recovery mode on an Apple M1 Mac
The macOS Recovery entering process on an Apple M1 Mac is much simpler.
Turn on your Mac and hold the power button until you see the startup options window.
Select

Options

, then click

Continue

.
Depending on your settings, you may also be required to enter your administrator password. Then, you'll see the apps available in macOS Recovery.
How to restore lost /deleted data in macOS Big Sur Recovery mode
macOS lets you recover lost, corrupt, or deleted data from an unbootable Mac with the Restore From Time Machine utility in Recovery mode. The preconditon is that you have a Time Machine backup.
Restore data from Time Machine
To restore files from a Time Machine backup, boot your Mac into Recovery mode first. Then, follow the steps below:
Select

Restore from Time Machine

.
Select the drive containing the correct backup and the backup you want to restore. This will typically be your most recent backup.
Click

Continue

to start restoring your backup.
Depending on the size of your backup, the restoring process may take some time.
Recover files with data recovery software
No Time Machine backup? Data recovery software can help you. Typically, third-party drivers or software are not allowed to run in macOS Big Sur Recovery mode. This means if your Mac won't boot and your data on your internal hard drive is lost. There is likely no way of recovering your data.
However, iBoysoft Mac Data Recovery works in this situation with macOS Big Sur on Intel-based Macs. It helps recover lost photos, videos, documents, and more from an unbootable Mac. Even if your drive is unreadable or corrupted, it can help you recover files from it.
Watch this hand-holding video to learn how recover from Mac that won't boot.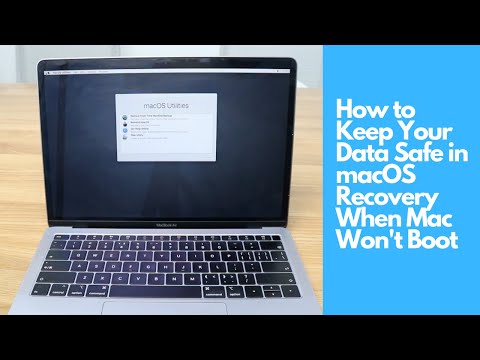 Note: iBoysoft Mac Data Recovery will support recover data from the M1 Mac internal hard drive soon.
Here are the steps to use iBoysoft Mac data recovery:
Press

Option

+

Command

+

R

+

Shift

key combinations and release them when seeing the spinning globe. Make your Mac connected to the Internet all the time.
Select Utilities > Terminal in macOS Recovery mode.
Run the following command to launch iBoysoft Data Recovery for Mac in macOS Recovery mode.

sh <(curl http://boot.iboysoft.com/boot.sh)
Then, you can scan, previw, and recover files from your unbootable Mac.
How to reinstall macOS in macOS Big Sur Recovery mode
Once you want to reinstall macOS, click on Reinstall macOS in macOS Recovery mode. Then, follow the onscreen steps to reinstall macOS. And it is worth noting that:
The installer may ask to unlock your disk, which you can do with your administrator password.
If you want to reset your Mac, you need to recover data from your Mac first. Then, erase your internal drive in Disk Utility before installing a new copy of macOS.
If the computer offers you a choice between Macintosh HD and Macintosh HD data, choose the former.
Installation can take a significant amount of time, so be patient. Make sure your Mac is connected to a power source. Don't close the screen or try and put your Mac to sleep, even if the screen is blank.
Other Tips for Reinstalling macOS Big Sur
1. If your Mac can boot up, you can skip the hassle of using macOS Recovery mode and reinstall a fresh copy of macOS directly from the App Store.
2. If your Mac doesn't boot, even into Recovery Mode, you can create a bootable installer. Be warned that this requires using the command line to talk directly to the computer. You should follow the instructions precisely.
3. Perhaps you want to downgrade from macOS Big Sur to macOS Catalina. Many apps are not yet optimized for macOS Big Sur, which can frustrate users.
4. You erased the M1 Mac before updating to macOS Big Sur 11.0.1. Then the system reinstalling process may be prevented by an error message. If this is the case, you can use Apple Configurator 2 to revive your M1 Mac.
5. If you want to reset your Mac to factory settings, you can follow the guides below:
• How to reset Mac without data loss?
Fix macOS Big Sur Recovery mode not working
If Mac Recovery Mode is not working for you, try the following troubleshooting steps.
Check if the keyboard is working, or try connecting a new keyboard.
Check whether you are using the keyboard shortcut for the right computer, depending on whether you have an Intel or M1 Mac.
If possible, update to the latest version of macOS Big Sur. Some early versions of macOS Big Sur contain bugs that could affect Recovery mode.
It is also possible that the recovery files stored on the built-in startup disk are corrupted. In this case, you can boot to macOS Big Sur's Internet Recovery mode as long as your computer can connect to Wi-Fi.
What else can you do with macOS Big Sur Recovery mode
MacOS Big Sur Recovery mode can do much more than help you recover files. There are several common apps in macOS Recovery mode that can perform other tasks.
Disk Utility
Disk Utility allows you to repair or erase your hard disk. This is useful if you are selling or giving away your computer. It also can help to restore or recover data if your disk is damaged.
To repair your disk, select your disk, click the First Aid button, and click Run.
Share Disk
Share Disk allows you to share files between two Macs when one is booted into Recovery mode. This is useful if your computer is experiencing problems but can still boot to Mac Recovery mode. It allows you to save and back up important files to another Mac before doing anything that may affect your hard disk.
Startup Security Utility
Startup Security Utility allows you to change the security settings on your Mac. This includes giving it the ability to run third-party software such as iBoysoft Data Recovery.
Your Mac can run in Full Security mode, in which only software currently trusted by Apple can run. Or it can run in Reduced Security, which still only lets your computer run officially trusted software but includes earlier versions of that software.
Conclusion
macOS Big Sur Recovery mode really helps a lot when your Mac has troubles. It is worthwhile to learn how to use Mac recovery mode and this post offers you a detailed guide. However, the macOS Big Sur Recovery mode is not working sometimes. At this time, to recover lost data, you can use iBoysoft Mac data recovery to avoid permanent data loss.