Summary: This article reveals how to recover valuable files in macOS Recovery mode even when your Mac faces the white screen of death. Read the solutions to fix the Mac white screen issue quickly.
This post contains:
An unexpected situation happens - your Mac goes to a white screen when booting. It seems like that your Mac, like MacBook Pro, stuck on a white screen due to hardware issues. In fact, the causes are various.
No matter your Mac mini, iMac, MacBook Air, or MacBook Pro stuck on a white screen, this page will help you fix the issue without data loss and restart your Mac normally.
Retireve files from Mac that stuck on white screen
The white screen on your Mac prevents you from accessing all files on your Mac. Be caution! You are at risk of losing data. This video will tell you how to recover data from Mac that can't boot up.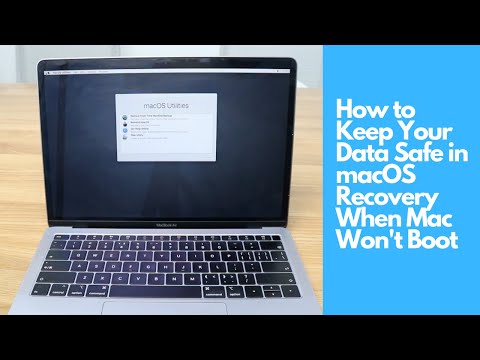 To recover data from your unbootable Mac, only data recovery software like iBoysoft Data Recovery for Mac can help you.
Start your Mac and then press 

Option

 + 

Command

 + 

R

 keys to enter into macOS Recovery mode. (Make sure the network of your Mac is well-connected).
Click

Utilities

>

Terminal

.
Run the following command to launch iBoysoft Data Recovery for Mac.

sh <(curl http://boot.iboysoft.com/boot.sh)

Follow the on-screen instructions to scan, preview, and recover the desired data.
How to run iBoysoft Data Recovery in macOS Recovery Mode?
This post tells you two ways to use iBoysoft Data Recovery in macOS Recovery Mode with or without a bootable USB drive. Read more >>
How to fix the Mac/MacBook white screen issue?
When Mac like MacBook Pro boots to white screen on startup, you can follow the following solutions to fix the problem.
1. Disconnect all peripheral devices
This solution is easy but helpful in some cases. It's easier to isolate and identify what makes your Mac stuck on white screen.
You can remove hardware as much as you can. That includes RAM, external drives, type-C adapter, even your keyboard, and mouse. Later, you can reconnect one device each time and restart the Mac. If there is any hardware failure, you'll figure it out.
For the hardware inside your Mac, it's not easy to disconnect. But you can try Apple Diagnostics or Apple Hardware Test (Mac introduced before June 2013) to have a check.
2. Boot into Safe Mode and Verbose mode
If the hardware is not responsible for this white screen problem on your Mac, you should move to check the software in Safe Mode. After all, It's common to see that Macbook won't turn on after update.
Possibly, the system fails to deal with incompatible drivers after the macOS update. Or some applications fail to upgrade. Such software could result in a blank white screen on Mac.
First, you need to boot Mac into Safe mode to check if it's a software issue:
For an Intel-based Mac, you can restart your Mac and hold the Shift key. When you see the Apple logo, release the Shift key.
For an M1 Mac, you should shut down your Mac. Then, press and hold the power button until seeing the startup disks and Options. Next, hold the Shift key. Finally, click Continue to enter into Safe Mode.
If you can boot your Mac into Safe Mode, it means that the white screen on Mac should be caused by a software issue. You can uninstall the recently insatlled software to fix this issue.
If it still doesn't work, go on booting into Mac Verbose Mode to find out the specific troublemaker:
Reboot your Mac and immediately hold Command + V key combinations. You can see a live report when Mac is booting up. If the Mac stops at some point, you should see which program causes the problem in the report.
And last, to fix the Mac white screen problem, you can simply give the Mac a safe boot again. Then, remove the specific conflicting programs.
3. Reset SMC and NVRAM/PRAM of your Mac
SMC, short for System Management Controller, is a chip on the logic board of Intel-based Macs. It controls all power functions for your Mac like battery charging and sleep settings.
So, you can reset SMC by holding Control + Option + Shift keys when rebooting your Mac to fix the white screen issue of your Mac. For an M1 Mac, there's no SMC.
NVRAM (Non-volatile Random-Access Memory) and PRAM (Parameter Random-Access Memory) are small memories that your Mac uses to store certain settings. That includes display resolution, startup-disc selection, recent kernel panic information, and more.
Hence, resetting the NVRAM/PRAM is another way to fix the Mac white screen issue. You should hold Command + Option + P + R keys at startup. But For an M1 Mac, NVRM is automatically running tests at startup and resets if needed.
4. Check and repair startup disk in macOS Recovery mode
Try this solution if you can see the Apple logo on the white screen (with or without the loading bar). The Apple logo means that the system finds the startup disk. However, for some reasons like file system corruption, the operating system directory can't be loaded.
You can boot into Mac Recovery mode and check and repair the startup disk with the First Aid feature in Disk Utility, then restart your Mac. If it works, the white screen of death on Mac will be fixed.
If First Aid reports the hard drive is about to fail, or it is not even showing up in Disk Utility, you have to replace this drive under the professional help. If the white screen is still there after reboot, it means that the disk errors can't be repaired.
5. Reformat the startup disk and reinstall macOS
As the corrupted Mac hard drive can't be repaired by First Aid, you need to reformat the startup disk and reinstall Mac OS. Reformatting will give a new file system so the drive can work again. However, it will also erase your all files from the startup disk.
So, check if you have backed up your Mac before. If no, to prevent unnecessary data loss, you need to recover data from Mac that won't  caused by white screen of death first. Then you can proceed with the following steps.
1. Make sure your Mac has an Internet connection. Then, you need to reboot your Mac into Internet Recovery Mode by holding

Option

+

Command

+

R

keys.
2. Select

Disk Utility

and select the startup disk.
3. Click

Erase

at the top menu of Disk Utility.
4. Fill in the required information like name, partition scheme, and format.
5. Click

Erase

to confirm this operation. And then you can go back to macOS Utilities (older version will be Mac OS X Utilities).
6. In macOS Utilities, choose

Reinstall macOS

and continue.
Then, things would be intuitive if you follow the on-screen instructions. After macOS reinstallation, you can restart the Mac and check if the Mac grey or white screen issue is missing.
6. Check the GPU of your Mac
Chances are that Mac stuck on a white screen at startup still. Sometimes, You can't even find anything abnormal after trying Apple Diagnostics. Then you should check the GPU (graphics processor) of your Mac manually.
Many MacBook Pro and iMac have two graphics processors - a discrete GPU and an integrated GPU. The discrete GPU provides substantial graphics performance but uses more energy. The integrated GPU uses less energy.
However, discrete GPU is the default option for Macs with two switchable graphics cards. So, it's necessary to force your Mac to boot in integrated graphics. But you should not try this unless you are a specialist.

To disable the discrete GPU on boot:
1. Boot into macOS Recovery mode and open Terminal in Utilities.
2. Type in the following command in Terminal window and disable discrete GPU.

nvram fa4ce28d-b62f-4c99-9cc3-6815686e30f9:gpu-power-prefs=%01%00%00%00

3. Type in the the following command line. It enables verbose boot mode so that you can see an intuitive report at startup.

xnvram boot-args="-v"

4. Reboot Mac into Single User-mode by holding

Command

+

S

at startup.
5. Type in the following in Terminal to mount root partition writeable.

/sbin/mount -uw /

6. Then you can make a kext-backup directory by this command:

mkdir -p /System/Library/Extensions-off

7. Type this command in Terminal to allow only move one offending kext out of the way.

mv /System/Library/Extensions/AMDRadeonX3000.kext  /System/Library/Extensions-off/

8. Inform the system to update its kextcache by this command:

touch /System/Library/Extensions/
You can end it up with a Mac restart. This should accelerate your display's performance. As a result, the Mac or MacBook Pro white screen issue should have gone with the wind. But at the same time, you'll lose some features like the ability to drive an external display from the Display Port.
To check if the GPU is incompatible with your Mac or broken physically, you can consult the Apple support and repair service.
What is the white screen of death on Mac?
Once a white screen shows on your Mac during startup, it means that your Mac has some issues. The issue could from hardware, software, firmware, or even the Mac models' design defect. But, it often occurs after a macOS update.
Your Macbook won't turn on if it is stuck on the login screen, leaving you no access to the data stored on it. There's no reaction but a Mac white screen with no chime or MacBook pro having a white screen with no logo.
Conclusion
Once your M1 Mac, MacBook, or Mac starts or restarts into a white screen of death, any software, firmware, or hardware could be the reason. They are either corrupted or incompatible with your Mac. You should calm down and check them one by one to fix the problem.
At the same time, don't forget to recover data from your Mac with iBoysoft Data Recovery in macOS Recovery mode to another destination. Or, you'll face permanently data loss.