Summary: Tutorial to boot Mac to Target Disk Mode on Intel Mac and Share Disk on M1 Mac. Plus how to use these two modes to transfer files between Macs. And it tells how to fix Target Disk Mode not working.
Nowadays, Mac users can transfer various kinds of files between two Macs without hassle, including photos, videos, music, and so forth. And Target Disk Mode/Share Disk, a startup option on Mac can meet your needs when you want to:
TTransfer loads of files from one Mac to another.
Migrate your data from an old Mac to a new Mac.
Access the startup disk's data when MacBook won't turn on.
Keep reading this guide to learn how to boot your Intel Mac to Target Disk Mode or M1 Mac to Share Disk and transfer files from one Mac to another.
Target Disk Mode VS. Share Disk
Target Disk Mode is a boot mode on Intel Macs that makes the target Mac's startup disk work like an external hard drive on another Mac computer. By connecting two Macs with Target Disk Mode, you can browse and open your files stored on the target startup disk.
With the advent of Apple Silicon Mac, the previous Target Disk Mode is replaced by Share Disk (also called Mac Sharing Mode), a new startup option on M1 Mac. Although they both function to transfer files between two Macs, the specific operations are different.
By connecting two compatible Macs, Target Disk Mode/Share Disk can help to access the startup disk when your Mac won't boot. If there is no other Mac available, you can boot your Mac into recovery mode and run iBoysoft Data Recovery for Mac to rescue files.
How to run iBoysoft Data Recovery in macOS Recovery Mode?
This post tells you two ways to use iBoysoft Data Recovery in macOS Recovery Mode with or without a bootable USB drive. Read more >>
Preparations to use Target Disk Mode/Share Disk
Before you start the Mac into target disk mode, you need to have preparations for a smooth and successful data transfer.
Two compatible Mac computers. One is the target Mac that you want to transfer files from. And the other host Mac is that your files are transferred to.
A Firewire or Thunderbolt cable for Intel Macs. A USB, USB-C, or Thunderbolt cable for M1 Macs.
Power charger. AC power source is necessary for MacBooks, in case the Mac runs out of power in Target disk mode.
Note: If either of the two computers has macOS 11 Big Sur installed, you must connect the two computers using a Thunderbolt cable.
Boot Intel Mac into Target Disk Mode to transfer files
If the two Macs are equipped with Intel chips, then you can boot them into Target Disk Mode to move files from one Mac to another.
1. Connect two Macs both through the Firewire or Thunderbolt cable mentioned above.
2. If your Mac is turning on, click the Apple logo and go to

System Preferences

>

Startup Disk

and click on

Target Disk Mode

to restart your Mac into Target Disk Mode.
If your Mac won't turn on right now, you can force your Mac to shut down by holding the power button, and then reboot Mac with the T key pressed. For Macs with T2 or FileVault enabled, enter the password when asked.
3. Then you'll see a  Thunderbolt or FireWire icon on screen, which means that the Mac is in Target disk mode.
4. Wait until the host Mac detects your target Mac and recognizes its startup disk as an external hard drive.
5. Then you can go ahead to copy or transfer files from the target Mac to the host Mac easily.
Boot M1 Mac into Share Disk to transfer files
If you want to share files between two M1 Macs or from an M1 Mac to an Intel Mac, you can enter Share Disk mode on the Apple silicon Mac to make the startup disk an external hard drive. Then, another connected Mac can access the disk and copy files.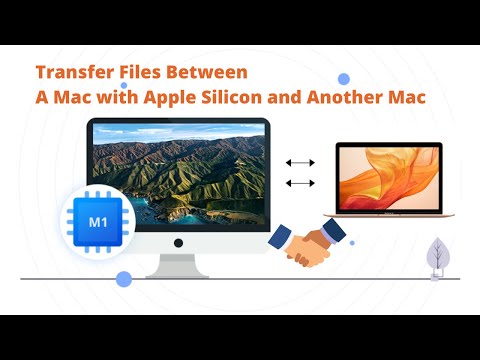 1. Connect the M1 Mac with the second Mac with a USB, USB-C, or Thunderbolt cable.
2. Shut down your M1 Mac, then press and hold the power button until you see the "Loading startup options" on your screen.
3. Click Options, then click Continue with the requested password for your administrator account.
4. From the top menu, select Utilities > Share Disk, and click the disk or volume that you want to share, then click on Start Sharing option.
5. On the second Mac, click Finder > Locations > Network.
6. In the Network window of the second Mac, double-click your M1 Mac that are sharing disk or volume, click Connect As, select Guest in the Connect As window, then click Connect.
How to fix Target Disk Mode not working
Sometimes, you can't boot your Mac into Target Disk Mode, or the target Mac doesn't appear as an external hard drive on the host Mac. Don't worry. There are some remedies to fix the Target Disk Mode not working issue.
Solution 1. Check the cables and ports
With the wrong ports or bad cables, the two Macs can not be connected successfully. Change different ports or cables to check if there is a connection problem.
Solution 2. Disable the Firmware password
With the Mac firmware password turned on, you will not be able to enter the target drive mode from a cold boot. You can boot your Mac into recovery mode, and choose Utility > Firmware Password Utility > Disable Firmware Password, then enter your password to turn it off.
Solution 3. Update macOS
If the hard drive on the target Mac is in APFS format, then the host Mac must run in macOS High Sierra or later. Earlier software can't read APFS so that it won't recognize your Mac.
Solution 4. Check the Preferences in Finder
The Finder might be set to hide external drives on the host Mac. In this case, the target disk will not show up. You can check by navigating to Finder > Preferences > Sidebar > Locations. Check if the boxed next to Hard disks and External disk are ticked.
Solution 5. Mount the hard drive
If the target disk fails to appear after making changes in Finder Preferences, you can try to mount the disk manually. Open Disk Utility on the host Mac and find the target disk. If it is grayed out, select it and click the Mount button.
If the approaches mentioned above can not make the Target Disk Mode work on your Mac, the reason may be related to Mac's hardware malfunction. You can connect to Apple Support for further help.
FAQ
How do I exit Target Disk Mode
Eject the target disk on the host Mac. Then press down the power button to turn off the target Mac. Disconnect the cable and boot your Mac as normal.
What other methods are available to transfer files from Mac to Mac
In addition to Target Disk Mode/Share Disk, multiple ways are available to realize files transferring between two Macs such as Migration Assistant, Airdrop, File Sharing, Dropbox email, cloud service, etc. You can choose to use differnt ways to share files based on the number and size of the files.