Summary: Read this article to know what Migration Assistant is and its benefits. You can also learn how to use Migration Assistant to transfer your data.
What is Migration Assistant?
Migration Assistant, a utility software developed by Apple Inc. , is used to transfer all your documents, user accounts, computer settings, and applications from a Mac, a Windows PC, computer, or a full drive backup to a new Mac. You may use it during the initial setup of a new Mac or run it manually on a system that has already been set up. 
You can find Migration Assistant by opening Launchpad> Other folder> Migration Assistant.
Benefits of using Migration Assistant
High efficiency: Migration Assistant duplicates the contents and configuration of an existing computer user account on a new one. By using the Migration Assistant utility, you don't have to set up email, bookmarks, passwords, and other settings from scratch. You can use it easily to transfer your accounts, including the desktop, movies, music, pictures, messages, and fonts. Even transferring all settings of your applications is possible.
Intelligence: Migration Assistant is smart enough to copy files without replacing software that's already present (or newer) on the old computer (e.g. operating system and other applications bundled with it). When data migration has finished, the new computer is ready to use, and nothing of the old computer is erased or changed.
How to connect two Macs to use Migration Assistant?
Thunderbolt is the fastest method and is available on all Macs from 2011 and later. Expect to transfer at least 3 GB per minute. You'll need a Thunderbolt cable.
Ethernet is available on desktop Macs, Windows PCs, and older Mac laptops. Expect to transfer 2 GB per minute. A Thunderbolt to Ethernet adapter (or USB 3 to Gigabit adapter) adds a network port to Macs that don't have one. You'll also need an Ethernet cable.
Firewire was common on older Macs (2008-2011). Use a Thunderbolt to Firewire adapter and Firewire cable for 2 GB per minute transfers. Stuck with an old Mac (2002-2008)? You might need a Firewire 800 to Firewire 400 6-pin cable for 1 GB per minute transfers. 
Wi-fi is a last resort. You'll want to put the computers as close as possible to the wi-fi hotspot and try to shut down any other computers that may compete for bandwidth. If both computers and wi-fi routers are 2013 or later (with 802.11ac), you can achieve almost 1 GB per minute. Older systems with 802.11n may take 3 minutes to transfer 1 GB.
How to use Migration Assistant to transfer data?
Fortunately, we've posted a video on our YouTube channel to display how to use Migration Assistant easily. This video can help you know the usage of Migration Assistant more quickly and instinctively than the pale text tutorials. It covers almost every step you should do when using Migration Assistant to transfer your data from one Mac to another.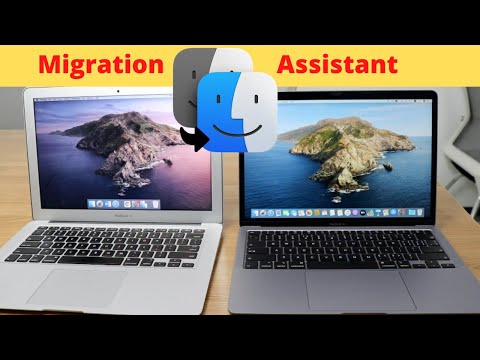 And here are some notes when using Migration Assistant:
1. Before using Migration Assistant, make sure two updated Macs boot normally on the same Wi-fi.
2. Be clear about the different steps on your old Mac and new Mac in case of being confused by the switch between the two Macs.
3. After Migration Assistant finishes data transfer, log in to the migrated account on your new Mac first to see its files.
Transfer files between two Macs with Target Disk Mode/Share Disk
If you can't start up your Mac to use Migration Assistant, or you don't need to transfer apps or settings, use Target Disk Mode or Share Disk to transfer data from a Mac to another. Read more >>