How to Fix Mac Folder with Question Mark at Startup?
Summary: This article tells you why your Mac shows a flashing folder with a question mark at startup and how to fix it. Detailed solutions are offered to help you boot up your Mac and secure important files.
With no warning in advance, a flashing folder with a question mark appears when your Mac startup.
What does it mean? A folder with a question mark icon means that your startup disk is not detected or doesn't have a usable Mac operating system.
Commonly, the folder with a question mark happens after you've booted from an external system drive recently, replaced a new HD or SSD, or updated a recent macOS. It could see that both software and hardware errors are the possible causes.
For the worst situation, you can't go past the question folder icon, even with a restart. So, to avoid data loss, recover files from your Mac first. Then, follow the solutions below to get rid of the blinking folder with question mark and boot up your Mac as usual.
Guide to fix Mac folder with question mark at startup:
How to Completely Factory Reset MacBook Pro/Air? Step by Step
A Mac flashing folder with a question mark issue can also result from an incomplete Mac factory reset. Read this post to know more about how to completely factory reset a MacBook Pro/Air. Read more >>
Recover data from Mac showing a folder with a question mark
You can watch this video to learn how to recover data from Mac that won't turn on due to the folder with a question mark.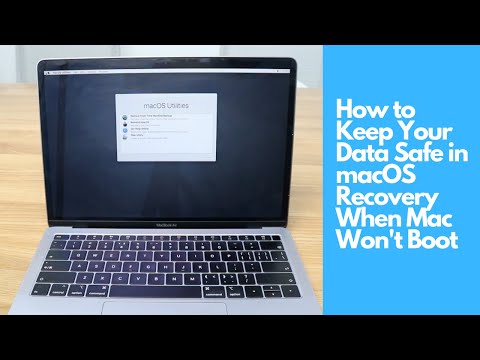 Data recovery is the first thing once your MacBook won't turn on, which can prevent forever data loss caused by some fixes. As the Mac is unbootable, you can only recover data with data recovery software like iBoysoft Mac data recovery.
Go to run iBoysoft Mac data recovery in macOS Recovery mode to get the lost files back. If you don't want to check the details, watch the above video instead.
How to fix the folder with question mark on Mac
You could see the folder with question mark on MacBook Pro, MacBook Air, iMac, or Mac mini. But anyway, you can try to reset NVRAM on your Mac first. If it doesn't work, try the following solutions one by one.
Here are the solutions to fix the folder with question mark on Mac in this post:
1. Check Startup Disk preferences
If your Mac displays a flashing folder at startup, you can wait for a moment and see if it can boot past the icon.
If fortunately, it continues booting up, congratulations! But just in case, you can reselect a startup disk in the Apple menu > System Preferences > Startup disk.
If your Mac can't boot past the flashing question mark, you can manually select the startup drive. You can do this by restarting your Mac while holding down the Option key.
If you boot from an external drive, you can check these factors.
Make sure the hard drive is powered on, especially for some desktop drive that needs an external power source.
Make sure the USB port and cable is working.
Tips: In the case of some older Mac OS X machines, you can boot from the install DVD or CD that comes along with your Mac in the optical drive.
[Solved] Mac internal hard drive won't mount issue
Your Mac startup disk won't mount, how to fix? This post will show you 6 solutions to fix the Mac internal hard drive not mounting issue. Read more >>
2. Reselect the startup disk in macOS Recovery mode
When the first method won't work, you can boot into Mac Recovery Mode. The built-in recovery system of your Mac allows you to reselect the boot volume to fix the flashing folder with a question mark on Mac without CD.
To do this, you can follow these steps.
Force your Mac to shut down by pressing the power button for seconds.
Identity if you are using an Apple Silicon M1 Mac or not, restart your Mac and immediately press one of these key combinations to boot into macOS Recovery mode.
Note that the way to boot into macOS Recovery Mode on M1 Mac is different from old Macs.

When you see the Apple logo or its loading recovery options, you can let the keys go.
Once you see the four macOS Utilities as below or similar, it means you have booted into macOS Recovery mode.

Then, you can click on the Apple logo at the upper left, choose the

Startup Disk

option.
Reselect the correct Mac startup hard drive that holds a macOS.

After you click on the Restart button, your Mac should then start up without the blinking folder with question mark.
3. Use Disk Utility to repair the startup disk
If you can't see any startup option in the Startup Disk window, probably, the startup drive is corrupted and that is the cause for the folder with a question mark on your Mac.
Then, you need to check and repair the hard drive with First Aid to boot your Mac from this drive.
The worst situation is that you don't see your built-in startup disk even in the Disk Utility. It indicates that there's a hardware issue. You need to check the connections of your hard drive or contact the Apple authorized service for Mac repair.
Some other times, the startup drive is showing up in Disk Utility. However, Disk Utility finds issues with your startup disk that it can't repair. In this case, you need to move forward to the next part.
4. Reformat the startup drive and reinstall macOS
After trying First Aid, you still see a folder with question mark during Mac rebooting, which means your startup disk has serious corruption. You need to reformat it and assign a new file system.
However, reformatting will wipe your files off the hard drive. If you don't have a backup of your Mac, you would lose important files after reformatting.
However, you can follow this safe guide to reformat the startup disk without data loss:
Recover data from Mac that won't turn on. (Of course, you can ignore this step if you have a backup.)
Boot your Mac into macOS Recovery Mode and select

Disk Utility

from the macOS Utilities.
Select the startup drive in Disk Utility and click on the

Erase

button at the top menu.
Name it as Macintosh HD, choose GUID scheme, and APFS format if you want to use macOS 10.13 later.
Now, you'll have a fresh new Mac hard drive but contains no operating system. To boot your up without flashing folder with question mark, continue reinstalling in Recovery mode.
How to Reinstall macOS to start up the Mac?
Here is a guide to reinstalling macOS to start up your MacMacBook Pro, Mac mini, MacBook Air, and iMac. Read more >>
5. Check and replace the startup HDD SATA connections
Your internal Mac hard drive is working on the basis of an HDD cable transmitting the electronic signals between the logic board and the hard disk drive. Therefore, once it's loose, damaged, broken, or deformed, you might get the Mac folder with question mark at startup.
Here is how can you check the connector of the startup HDD. Note that asking someone professional to help you do this job is necessary.
Check and remove any foreign object on the connector
Make sure the connector is clean and corrosion-free
Check if the flex HDD cables are broken or damaged due to overstress and bent.
The SATA hard drive is connected to the logic board in your Mac in the way of bending 90 degrees twice. This particularly can be seen in the 13" MacBook Pro 2012 model (on the edge of the super drive).
So, it's likely that the copper wire inside the flexible plastic cable is broken or damaged at the bent section.
Then you'll need to replace it with a good HDD cable.
If your Mac mini, MacBook Air, or MacBook Air shows folder with a question mark, you can check the SATA connection like this.
1. Open up the cover of the Mac.
2. Find the SATA connection of your hard drive. You can remove the connection and then clipped it back firmly.
This works well if your Mac doesn't recognize the internal hard drive for booting up. But if it doesn't help, either the hard drive or the SATA connection is damaged. You'll ask for a repair or replacement service from Apple.
6. Update firmware of your Mac Computer
If you see the Mac folder with flashing question mark after a recent macOS download and update, it may be a result of incompatible firmware that should be automatically upgraded by the installer.
Possibly, the firmware fails to complete the update during the whole system update. Then, the new system can't be recognized by the old firmware, causing boot issues.
To re-update the firmware, you can manually erase the disk and reinstall the macOS with a stable network connection and enough free disk space.
MacBook won't turn on after macOS Monterey/Big Sur update
Your Mac won't turn on after a minor macOS update or a major macOS upgrade, what to do? Here are quick solutions for fixing it. Read more >>
7. Check the lifeboat connector on the logic board
Inside MacBook Pro in 2016 and 2017 with Tochbar, a critical bridge connector called lifeboat is used to connect the SSD circuit to the CPU so the CPU can read and write data to the SSD chips.
However, if you have sent it for repair and forget to put it on, or if the lifeboat connector cap is not functional, you will get the flashing folder when turning on Mac.
Here are some basic checks you can perform to make it work again (Do these checks with someone professional):
Make sure there is a lifeboat cap and it's on.
Remove the lifeboat connector cap and check if it's corroded or dusty.
8. Check the faulty SSD socket or hard drive on the Mac logic board
Sometimes, Mac can't find the startup drive just because the drive itself is in trouble.
Your removable SSD drives on the Mac logical board are connected using SSD sockets. Once these components are corroded, damaged, or dusty, you'll receive the "Mac folder with question mark" error on Mac booting up.
So, think if you have spilled any liquid on your Macbook Air or Pro. If you see the SSD socket is corroded, you can cut off the corrosion and map the pins with 99% alcohol. If it doesn't help, you need to replace the socket.
For most Apple iMac, pre-2013 MacBook, and MacBook pro that use mechanical hard drives, the Mac flashing folder with question mark appears when there is a mechanical disk failure, and you might hear beeping or clicking noise. Or if you can't feel the vibration of the hard drive spin motor, the hard drive is dead.
Go ahead to replace or upgrade it with SSD, and reinstall Mac operating system.
Conclusion
Most of the time, errors like the circle with line through it and the folder with a question mark on the Mac/MacBook screen mean a system software issue. You can simply fix this by reinstalling macOS (Remember to recover data first).
If macOS reinstallation can't fix the Mac flashing folder issue, it could also result from hardware issues. In this case, you'd better send your Mac to a trusted repair store.
Read also: