Summary: This post helps fix a circle with a line through it (or a slash crossed-out circle) that shows on Mac boot and restart your Mac as usual. You'll also learn about what the prohibitory symbol means on Mac.
The sign, a circle with a line through it, has shown up on your Mac at startup suddenly. It's definitely not the bearer of good news but indicates some severe problems when Mac won't turn on normally.
Take attention! All files on your Mac are in danger. To avoid permanent data loss, rescue it from your Mac first, and then try the solutions below to fix the prohibitory symbol on Mac.
Retrieve files from Mac which shows a circle with a line through it
This video provides a detailed guide to recover data from Mac that won't boot, go watching it now.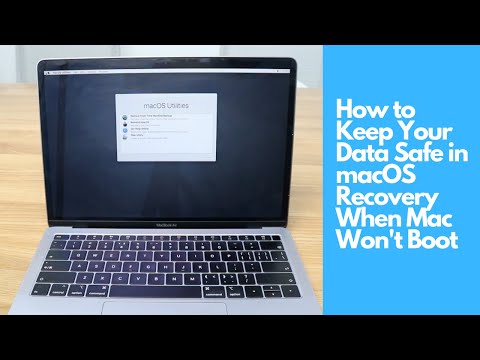 To get the data off an unbootable Mac caused by the prohibitory symbol issue, only data recovery software can help you.
iBoysoft Data Recovery for Mac is a reliable and secure data recovery software. With it, you can recover data from Mac that won't boot in a simple way.
To get data off from Mac showing up O with a line through it, follow these steps:
Press

Option

+

Command

+

R

keys when startup until seeing the spinning globe. (Keep your Mac connected to the Internet all the time).
When entering into macOS Recovery mode, select

Utilities

>

Terminal

.
Type the following command to launch iBoysoft Data Recovery for Mac.

sh <(curl http://boot.iboysoft.com/boot.sh)
Then, you can scan, preview, and recover the files including documents, videos, photos, audios, etc. from your internal disk.
Have any questions? Learn more details from How to run iBoysoft Data Recovery in macOS recovery mode. If you don't want to read the article, watch the video above instead.
Guide to Fix the Prohibitory Symbol on Mac
To help Mac boot past the O with line through it or 🚫, and to fix your MacBook Pro having a circle with slash on startup, you can follow these steps.
Step 1. Boot the Mac into macOS Recovery mode
If your Mac like MacBook stuck on the prohibitory symbol screen and can't boot up normally, you can try to boot Mac into macOS Recovery Mode. Either from the local recovery system on your startup disk or from internet recovery system is okay.
Here is how to do this:
1. Force your Mac to shut down by holding the power button for 5 seconds around.
2. Restart the Mac and instantly hold

Command

+

R

key combinations.
3. Release these keys when you see the Apple logo or loading bar. Then you'll see the macOS Utilities, which means your Mac is in macOS Recovery mode.
Note: If you can't boot into macOS Recovery mode by the guide above, you can replace the key combinations with Option + Command + R (or Shift+ Option + Command + R), and keep your Mac connecting to the Internet.
If you are using an Apple M1 Mac and see this circle with a line through it, the way to boot into M1 Mac Recovery Mode is different.
Step 2: Repair the startup disk with Disk Utility
You may also see the circle with a line through it on your Mac if the Macintosh HD is corrupted.
First Aid in Disk Utility can find and repair errors that lead to Mac's unexpected behaviors that prevent your Mac from turning on. So, when your Mac won't boot past the sign of crossed-out circle, simply check, verify, and repair the startup disk with First Aid in macOS Recovery mode.
If First Aid succeeds in repairing the errors in the startup disk, you can quit Disk Utility and reboot your Mac as normal.
If unfortunately, you can't access First Aid in Disk Utility because macOS Recovery mode is not working, you can try Target Disk Mode.
It turns your troubled Mac into an external drive. Do this by connecting your troubled Machine to another Mac with the same OS or higher and restarting it while pressing the "T" key. Then you can open Dick Utility on the other Mac, select the troubled hard drive ((Which is the startup disk of the unbootable Mac) and click First Aid.
If First Aid found no errors and your Mac still starts up with a circle and a line through it, continue with the next movement.
Step 3: Back up files from the Mac and reinstall macOS
If First Aid fails to repair the startup disk, then it should be the incompatible Mac operating system that causes the prohibitory symbol on Mac boot. It happens when:
you upgrade to the latest macOS but it not compatible with your machine
the macOS build or version on your startup disk is damaged
you downgrade the system from Time Machine backup and cause software conflict
Then, you can only reinstall a macOS that work with your Mac models to fix the prohibitory sign on MacBook Pro, MacBook Air, iMac, and Mac mini.
However, you should know that macOS reinstallation could risk losing your data on the Mac. Your files could get lost or deleted sometimes, so make sure you have a backup of your data. If you don't, you can recover data from Mac froze on a prohibitory symbol first.
After your files are retrieved from the Mac that starts up to a circle with a line through it, or if you don't worry about data loss, you can move to reinstall the macOS.
What does a circle with a line through it mean at Mac startup?
Different from the Mac folder with a question mark issue, a circle with a line or slash through it means that your selected startup disk has a Mac operating system that can't be used by your Mac model.
To make it straightforward, Mac does detect an operating system in the startup disk, but it can't boot from that macOS version or build. And then feedback it with a crossed-out circle at startup.
Mac computers like MacBook Pro often boot into the 🚫 'Prohibitory sign' or other boot problems after macOS update. For instance, you update the system to macOS 11 Big Sur without checking the system requirements.
Some try to downgrade macOS Big Sur to older system with Time Machine backup, only to find that the crossed-out cricle at Mac startup due to incompatible OS.
So, the compatibility checking of the macOS and Mac models before upgrading is necessary.
Conclusion
After trying the fixing guide in this passage, you can restart your Mac or M1 Mac to see whether the annoying sign of a circle with a line through it has disappeared or not. Hopefully, you'll get rid of this prohibitory symbol when Mac is booting up.
But if the startup disk is not detected in Disk Utility or by the macOS reinstallation wizard, it means your hard drive has failed and needs to be replaced. Or, you may want to contact Apple support for help.