Your Mac won't turn on but shows a gray, blank, or black screen. Then, you can't access the files stored on your Mac hard drive. In such a serious situation, what worries you most is that if you can recover data from Mac that won't turn on.
How to recover data from Mac that won't boot?
Though data recovery from an unbootable Mac is not as easy as from a Mac that works, here are five methods to get files off a Mac that won't turn on.
These five methods are applied to MacBook Pro, MacBook Air, Mac mini, iMac and Mac Pro, including T2 Mac, but not including M1 Mac.
• How to recover data from M1 Mac that won't turn on?
Method 1: Using iBoysoft Data Recovery software - Very easy & quick
As your Mac won't boot, data recovery is challenging. Using data recovery software is testified the most efficient and simplest way. But not all the data recovery software in the market has the ability to get files off a Mac that won't boot.
iBoysoft Data Recovery for Mac, taking the advanced and safe techniques, helps recover data from an unbootable Mac in an easy way. It can be launched in macOS Recovery mode through Terminal without the need to create a bootable drive on another Mac.
Now, watch this video to learn how to recover files from a Mac that won't boot.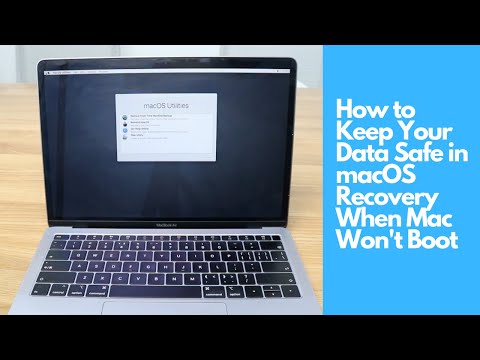 Tutorial to save your files from unbootable Mac with iBoysoft Data Recovery for Mac:
Step 1: Start your Mac in macOS Recovery mode according to the methods shown on the following picture.
Step 2: Choose a network for your Mac and make your Mac connected to the Internet all the time.
Step 3: Open

Terminal

from

Utilities

drop-down menu.
Step 4:

Type the following command in Terminal

and press Return to launch iBoysoft Data Recovery.

sh <(curl http://boot.iboysoft.com/boot.sh)

Step 5: After launching iBoysoft Data Recovery, follow the wizard to scan data from Mac hard drive and recover data.
If the above method is not working, follow the solution 2 at: How to run iBoysoft Data Recovery in macOS recovery mode? and try again.
Method 2: Restore Mac from Time Machine backup
A better situation is that you have backed up the Mac before it crashes. The Time Machine backup can help you restore your Mac. Then, not only your data is recovered but also your dead Mac can boot up again.
However, you should know that the Time Machine backup only saves the files on your Mac at a certain time. As the data on a Mac changes at every minute and every second, you'll still lose some data. Hence, using iBoysoft Data Recovery for Mac to rescue files is a more guaranteed way.
To restore your Mac from Time Machine backup:
Connect the external hard drive that stored the Time Machine Backup to your Mac.
Boot your Mac in macOS Recovery mode.
Select

Restore From Time Machine Backup

on macOS Utilities and click

Continue

.
Select the external hard drive > the latest Time Machine backup and click

Continue

.
Choose a drive where to save the Time Machine backup and click

Continue

.
Erase the destination disk first, and click

Restore

.
It will take a long time, maybe hours, to restore the macOS and files. Then, your Mac will restart automatically. Note that you might also fail to recover lost data as the process is complicated.
Method 3: Restore Mac from APFS snapshots
Snapshot, a feature of APFS since macOS High Sierra, captures the state of an APFS drive including save all the data on the drive at that state. If you want to restore data from the Mac that won't turn on without a Time Machine backup, rolling back your Mac to a previous state with APFS snapshots.
Restore your system to a previous point, which could result in some data loss. So, recovering data from APFS snapshots is not a recommended way.
If you insist, follow these steps:
Boot your Mac into macOS Recovery mode.
Select

Restore from Time Machine

in macOS Utilities.
Select the latest APFS snapshot.
Note: For some reason, like no enough Mac hard drive storage space, your Mac might fail to save an APFS snapshot.
Follow the instructions to restore your Mac.
Method 4: Copying your Mac hard drive via creating a disk image
Creating a disk image is to compressedly copy the contents of a disk. To copy data from a Mac hard drive only if it is not corrupted.
However, most of the reasons for the MacBook not turning on are due to internal hard drive corruption or similar. There's a very small chance that you can create a disk image from the Mac hard drive and get lost data back.
Uh, you can also have a try.
Boot up your Mac into macOS Recovery mode.
Connect an emptied external hard drive (with a large capacity) to your Mac.
Select

Disk Utility

> the startup disk.
Choose

File

at the top Apple menu. Click

New Image

>

Blank Image

.
Type basic information for the disk image, choose an external hard drive to save it, and select image format as read/write.
Click

Save

>

Done

.
It's hard to successfully create a disk image of your Mac hard drive. Why not use the easy-to-operate iBoysoft data recovery software to save your files?
Method 5: Recover data with Target Disk Mode
Target Disk Mode enables you to transfer files between two Mac machines. This way is complex as it requires another bootable Mac and a Thunderbolt or Firewire cable for connecting the two Macs. Besides, you need to disable FileVault on the healthy Mac.
Then, press down the T button when restarting the Mac that not turning on. If it is successful, you'll see the internal hard drive of the faulty Mac showing up as an external hard drive on the Mac that works.
The question is, usually, the unbootable Mac hard drive has some issues, it is not accessible or even won't show up on another Mac via Target Disk Mode. Let alone transfer files from it. To save your time and energy, you'd better choose iBoysoft Data Recovery to rescues the lost files.
After recovering data, it is time to fix Mac not turning on issue.
Final thoughts
In this post, you can try different ways to recover data from the MacBook that won't turn on. But no matter what situation you are in, using iBoysoft data recovery software to recover Mac hard drive that won't boot is the best choice. Then fix your MacBook and boot up it again.
• How to restore your Mac when Mac Recovery mode not working