Summary: A complete toturial to fix iMac, Macbook Pro/Air that won't turn on black screen issue. Save your files with iBoysoft Data Recovery in macOS Recovery Mode.
Sorry to hear that the black screen appears on your MacBook Pro, MacBook Air, iMac, or Mac mini when you press the power button but find no response. Probably, the MacBook won't turn on at all, or it starts up but the display still shows black (blank, blue, or gray).
Once the black screen of death issue happens, you can't use your Mac normally and also can't access data on your Mac.
In that case, you'd better rescue files from your Mac to avoid permanent loss. Then, follow the detailed solutions to fix the Macbook Pro/Air that won't turn on due to the black screen issue.
Quickly retrieve files from Mac having the black screen issue
Don't want to lose important data? Watch this video carefully. You'll get the detailed way to recover files from MacBook that won't turn on.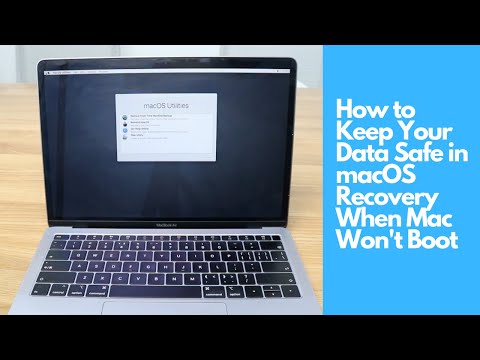 If you have a backup of your Mac, you can breathe a sigh of relief. If not, the software - iBoysoft Data Recovery for Mac can help you recover data from unbootable Mac.
To recover data from your Mac/MacBook that has a black screen issue, you need to run iBoysoft Data Recovery in macOS Recovery mode. It's recommended that watching the above video is the best.
Fix MacBook Pro/Air won't turn on for black screen issue
How to restart MacBook Pro or MacBook Air when black screen issue happens? Here are the proven solutions. Let's try them one by one carefully.
1. Check if the power is on
Sometimes, the MacBook shows a black screen only but plays no startup chime during booting. In this case, check if your Mac is charged with enough power.
You can plug in the charger and wait for minutes and press the power button. In some cold environment, warming up the back part of your MacBook first.
Also, make sure the charger cable is OK when your Mac is charging. Besides, check your battery cycle to see if it needs to be replaced.
If power issue is fixed, restart your Mac. Then, your MacBook won't boot into the black screen but power up as usual.
2. Perform a Power Cycling
To fix the MacBook Air or MacBook Pro screen goes black during booting, doing a Power Cycling is a common way. If you can hear some spinning noise from the hard drive or fans at startup, it means that the black screen issue is not caused by the lack of power.
Then, you can try the magical Power Cycling.
On a modern MacBook without removable battery like MacBook Pro 13" with Touch Bar and MacBook Pro 15" with Touch Bar, you can long hold the power button to shut it down, wait for 10 seconds around, and then reboot the MacBook.
For some older MacBook like MacBook Air 13" and MacBook 13" whose battery is removable, you can forcibly shut it down, unplug it, remove the battery, and wait for seconds. Then you need to put the battery back and restart the Mac.
3. Disconnect the peripherals
Sometimes, the issues on the peripheral devices will lead to your MacBook Pro or MacBook Air won't turn on with a black screen.
Disconnect all the external devices like USB drives, phones, printers. Then, restart your Mac to check if it can boot up.
4. Check the display's brightness
It's also a possible cause that the black screen on your MacBook is not a startup problem but due to it dimmed down.
Usually, press the F1 key will lower the screen brightness while the F2 key to increase. So, you can continue pressing the F2 key to light your screen.
5. Wake up your Mac from sleep mode
If you see a black screen on your Mac with cursor, it means that the machine get stuck on the black sreen for a moment and then gets into sleep mode.
To wake your Mac from such a dilemma, you can type the first letter of the user name and hit the "Enter". Mac will recognize that you type in the wrong information and give you a response, and consequently, it will withdraw from the black screen situation.
6. Reset SMC
SMC, short for System Management Controller, controls the way how your Mac manages power. Resetting SMC will reset power management-related settings and fix the boot failure.
Shut down the Mac.
Hold down 

Shift

 + 

Control

 + 

Option

 keys and the power button at the same time for 10 seconds.
Release the keys.
Then, restart your Mac to see what goes on.
7. Reset NVRAM settings
Mac's NVRAM stores in-memory settings include display resolution, startup disk selection, recent kernel panic information, etc. So, resetting NVRAM may helpful for fixing the MacBook Pro black screen of death.
To reset the NVRAM settings:
Press and hold the

Option

+

Command

+

P

+

R

keys when restarting your Mac/MacBook
Release the keys until you hear a second startup sound. For a Mac with T2 chip, release the keys after the Apple logo shows up and disappears for the second time.
Note: NVRAM is available on M1 Mac, but it is configured to automatically run test and reset the NVRAM if needed on startup.
8. Boot into Safe Mode
This issue may also be caused by some third-party drivers: Boot Mac into Safe Mode to check and prevent some third-party login items from automatically loading or opening during startup.
To boot into Safe Mode on an Intel-based Mac:
Shut down your Mac and wait about 10 seconds.
Press and hold the 

Shift

 key when restarting your Mac.
Release the 

Shift

 key until the login window appears.
To boot into Safe Mode on a Mac with Apple silicon:
Shut down your Mac and wait for a moment.
Press and hold the power button until the startup disks and Options show up on the screen.
Press and hold the 

Shift

 key, then click 

Continue

 in Safe Mode.
If your MacBook can boot into Safe Mode, you should uninstall the recently downloaded third-party software to check if it's the troublemaker.
• How to uninstall apps on Mac?
9. Repair the startup disk
When MacBook Pro/Air screen goes black and unresponsive at startup, you can try to boot it into Mac Recovery Mode first with the following way.
Then, repair the startup disk with First Aid in Disk Utility.
After repairing, restart your Mac and check if it can boot past the black screen.
10. Reinstall macOS
If the MacBook Air or MacBook Pro black screen issue can't be fixed by First Aid, recover data from your Mac first. And then, boot into macOS Recovery mode again, erase the startup disk (Usually Macintosh HD) in Disk Utility, and go back to macOS Utilities window to reinstall macOS with the Reinstall macOS utility.
How to fix the iMac black screen on startup?
Even though iMac is packed with the latest processors, faster memory, Retina display, and phenomenal graphics, it also can't avoid the black screen issue still.
The fixes below are also suitable for Mac mini black screen problem.
At this time, you can first:
Check if your iMac lacks power and then try to restart it.
Disconnect all the perpherials.
If you still see a black screen during restarting your computer, try the following fixes.
1. Do a Power Cycling
If you can hear some spinning noise from your iMac at startup, there is no power issue. Then, you can try to run a Power Cycling to fix your iMac.
Step 1: Unplug the power cord and leave it unplugged for fifteen seconds.
Step 2: Plug it back in and wait five more seconds.
Step 3: Press the power button to turn the iMac back on.
2. Fix software issues that caused iMac black screen
If your iMac screen still stays black on startup, you can check and fix the software incompatibility issues as below.
Also, if you have recently updated your iMac to a new macOS and had this problem since then, you can try to:
Recover data from your Mac and then reinstall the macOS.
However, if your iMac has a serious hardware issue and won't turn on. At this time, you have to send it to a professional repair store.
How to fix M1 Mac black screen?
You might find that your M1 MacBook Pro/Air stuck on black screen after restart. As reported, this issue commonly appears the M1 Mac in using an external monitor, especially when the M1 Mac is on wake from sleep mode.
• MacBook Air M1 not turning on, what to do?
To restart your M1 Mac that has the black screen issue, you can try these solutions:
Do not use the external monitors (from Dell or whatever) but use your MacBook simply built-in screen.
Check the power and restart your M1 Mac.
Disconnect all perpherials.
Boot Mac into Safe Mode, see details...
Upgrade your macOS Big Sur 11 to the latest version.
Reinstall macOS in macOS Recovery mode.
How to Reset your M1 Mac to Factory Settings
Ways to factory reset your M1 Mac mini, MacBook Air, and MacBook Pro and reinstall macOS Big Sur when you need to replace it or the Mac is bricked. Read more >>
What causes the Mac black screen of death issue?
Believe that you are curious about the causes of the black screen issue on Macs like MacBook Pro. Here we conclude four major reasons.
Software or firmware issues

It occurs after you have recently upgraded to a new macOS, or have update firmware. The new updates could come with unsolved bugs, incompatibility issues, or very large disk space consumption.

Hardware damage

If you have recently twisted the screen or dropped the Mac, a big possibility of your Mac unresponsive black screen is hardware issues.

Power issues

Mac boots into a black screen if there is no enough or rated power, or if the battery is out of cycle count.

Poor contact

A computer is composed of lots of hardware and firmware. But once the contacts between them are loose, dusty, or damaged, the computer won't start up normally.
In addition, there are still some unknown reasons caused by motherboard failure that people cannot tell.
Note: Upgrading to macOS 11 requires more time to set up your Mac. If your Mac doesn't response after a relatively long time, then read through the above solutions.
Conclusion
When your MacBook Air or MacBook Pro won't turn on but boots into the black screen, it's not the end of the world. You can find solutions in this post or get assistance from an Apple store specialist.
Anyhow, when your Mac won't boot, please firstly check whether you have a file backup or have recovered data with data recovery software from iBoysoft before any repair. Or, you'll lose all your files on Mac.
See also: