Disk Is Uninitialized on Mac? How to Recover Data and Fix It
Summary: This post talks about how to fix uninitialized disk and the reasons behind the problem. It also provides a tutorial to recover data from uninitialized disk on Mac with iBoysoft Data Recovery for Mac.
When plugging in a disk to your Mac, you may find it showing up as uninitialized in Disk Utility, and can't be mounted at all. This problem usually happens to external hard drives, which are used to extend a Mac's disk capacity or to make a backup of important files or the entire disk. Once the storage device becomes uninitialized on Mac, you will have no access to tons of data stored on it.
Don't worry. This page will show you all details and tutorials you care about uninitialized disks.
Table of Contents:
Part 1. What does uninitialized disk on Mac mean
There is no need to worry when it requires initializing the disk for the first time to use. For a brand new disk, the uninitialized state means it hasn't been activated and is not ready to use. To initialize disk, Mac assigns a starting value to the variable of the storage device in its own language.
But it is not so optimistic when a disk in use is uninitialized. Some Mac users find that the Apple SSD is uninitialized in Disk Utility. And there is also feedback that says the external drive becomes uninitialized and is not working as before.
Whatever, when a disk is uninitialized, you can not open it, and all disk data stored is inaccessible. Seriously, there is a risk of losing data. Therefore, it is recommended to recover data from an uninitialized disk first before taking any further steps.
Share this post to help more people understand uninitialized disk on Mac.
Part 2. How to recover data from uninitialized disk on Mac
The truth is, when the disk becomes uninitialized, the data stored on it still exists but becomes invisable. What's more, as long as the disk data hasn't been overwritten, it's possible to be got back.
To recover data from uninitialized disk on Mac
To recover data from uninitialized disks on Mac, iBoysoft Mac Data Recovery, the professional Mac data recovery software, will be helpful.
iBoysoft Data Recovery for Mac can not only recover data from uninitialized AppleAPFSMedia, but also recover data from uninitialized external hard disk, including WD My Passport drives, Seagate external hard drives, sd cards, and so on. It supports nearly all file types recovery, such as deleted files, photo recovery, video, audio, documents, emails recovery, etc.
Follow the steps to recover data from uninitialized disk on Mac:
Step 1: Download and launch iBoysoft Data Recovery for Mac.
Step 2: Choose the uninitialized disk, and click "Next" to scan the disk.
Step 3: Preview the scanning results, choose the files you need, then click "Recover" and specify a different location to store the recovered files.
Step 4: Go through to ensure you have got all the files back.
If you have successfully recovered data from the uninitialized disk on Mac hard drive data recovery software, you can share it with people who encounter the same problem as you.
What's more, iBoysoft Data Recovery software can recover data from formatted drives, unreadable drives, unmountable drives, inaccessible drives, deleted files, and lost partitions, etc. It's fully compatible with Mac OS X 10.11 and later version, and works fine on Macs equipped with M2, M1, M1 Pro, and M1 Max chips.
How to run iBoysoft Data Recovery in macOS Recovery Mode?
If you want to recover data from an Apple SSD drive, you need to boot your Mac into Recovery mode, then use iBoysoft Data Recovery to scan and restore lost data. Read more >>
Part 3. How to fix an uninitialized disk on Mac
After recovering data from uninitialized disk on Mac, you can then go ahead to fix the storage media without worrying about losing data. There are some proven methods, apply them one by one to troubleshoot a disk not initialized on Mac.
There is a video tutorial you can follow to fix an uninitialized disk on Mac.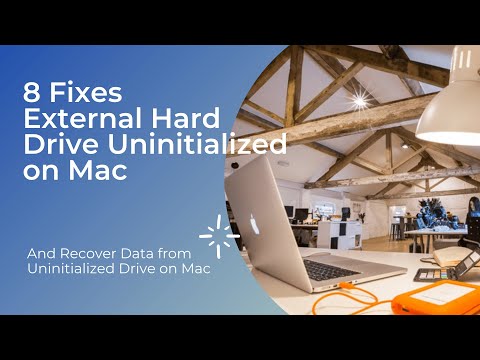 Method 1. Check the connections
You can safely remove the uninitialized disk from your Mac and then re-plug it to see whether the issue exists. And with an incompatible USB cable or USB port, the Mac can not read the disk. So you can use another USB cable or USB port to make sure the disk is connected properly.
Method 2. Restart Mac
No matter what error happens, there is no harm to restart Mac to fix it. It will put everything back to normal just like magic. When you turn on the Mac again, reconnect your disk to see whether it can be opened.
Method 3. Update the driver
An outdated driver can also make the disk not readable and require to initialize. Then, updating the drives on Mac can solve this problem easily.
Step 1. Go to the Apple menu and select "System Preferences..".
Step 2. Click "Software Update".
Step 3. Check for any available updates for your system and applications.
Method 4. Run First Aid in Disk Utility
Disk Utility is a built-in tool on Mac. It can check and repair file system errors on Macintosh HD, external hard disk, USB drive, flash drive, SD card, etc. You can try to fix uninitialized disks with this free tool.
Step 1. Go to Applications > Utilities > Disk Utility.
Step 2. Select the uninitialized disk from the left sidebar and click First Aid at the top of the window.
Step 3. Wait till the reparation process ends and click Done.
Then you can unplug the disk and re-plug it to check if the error is fixed. If Disk Utility failed on external hard drives, please move to the next solution.
Method 5. Reinstall macOS
If the hard disk becomes uninitialized after you upgrade the macOS, then you can reinstall macOS on your Mac to fix the error. Upgrading or downgrading to the original version. Then you can back up important files on the disk and install the operating system you preferred.
Method 6. Format the disk
Performing format a disk erase all data. If there are no important files stored on the uninitialized disk, formatting the disk can make it useful quickly. You can format Mac startup disk and format the external hard drive on Mac, the procedures differ.
Method 7. Send to repair
After applying the methods above, still unable to solve the disk not initialized problem? The disk may have some physical damage. You can send the hard disk to a professional local repair office for further advice.
Method 8. Consider a replacement
If the uninitialized drive has been used for many years, it's time to consider buying a new one to avoid potential errors like data loss. Before disposal, run iBoysoft Data Recovery software to find lost/deleted files and back it up on another drive.
If one of the above methods works to fix your uninitialized disk on Mac, share this post to help more people!
Part 4. Why the disk is not initialized on Mac
A lot of reasons will make your disk uninitialized on Mac. The following are some common causes.
Connection issue
Physical damages
Sudden power outage
Virus attack
Partition damage or loss
Bad sectors
File system corruption
File system incompatibility
Part 5. How to initialize a disk on Mac
A disk initialization process prepares the disk for data storage on Mac computers. Only after an external hard disk is initialized can you partition it to separate sections and format it with certain file systems. Then, you can store various files on to the disk.
A disk initialization process will wipe all data on it. That's why we always ask you to check whether you have a complete disk backup copy or to recover data with iBoysoft Data Recovery for Mac.
The Mac operating system automatically detects a disk that needs a disk initialization and prompts you to initialize disk with the error message "The disk you inserted was not readable by this computer."
You can simply click the Initialize button and follow the onscreen wizard to perform a disk initialization on Mac.
To complete the disk initialization process, you need to provide a Name (what you identify this disk), choose a Scheme (what partition table you prefer, GUID-GUID Partition Table or MBR-Master Boot Record), set a size, and select a Format (how to organize data stored on the hard disk, known as file systems like APFS, HFS+, exFAT, etc.) for this disk. You can also initialize disk by clicking the initialize disk option in Disk Management on a Windows PC.
Conclusion
Once your hard disk becomes uninitialized, the data will be inaccessible, but not necessarily mean data is lost from the disk. To avoid data loss, you can firstly run iBoysoft Data Recovery for Mac to recover data from uninitialized disks with ease. Then, you can follow the tutorials above to fix the Apple SSD uninitialized and external drive uninitialized, and initialize disk on Mac.
Now, you can share this informative and helpful tutorial with whom is troubled with the same issue.
FAQs about recovering data from uninitialized disk on Mac
A
To initialize an external hard drive is to prepare it to use. If it is a brand new hard drive, after initializing, it will be assigned with a file system. As for an external hard drive that is in use, initializing it will clear all the files on it and you need to reassign the file system, name, and others to it.
A
Yes, initializing a disk will erase all the data stored on it. Therefore, it is always recommended to back up your drive when it functions well. When you find your external hard drive becomes uninitialized, you can try some methods we provide in this post before you initialize it. Perhaps one of them works to make the uninitialized disk usable without initiailizing.
A
Unluckily, initializing the disk is the last resort to fix the uninitialized drive, then you should recover data from the uninitialized disk with iBoysoft Data Recovery in the first step. Then, you can go ahead to initialize the disk without losing data on Mac.