How to Recover Lost Data from MacBook Pro/Air 2018/2019/2020?
Summary: This page is about how to recover data from MacBook Air and MacBook Pro 2018, 2019, 2020 withT2 security chip. T2 chip data recovery when MacBook won't turn on is possible now.

Although Mac notebooks have gained a reputation for their performance and beauty, more and more people find a drawback in MacBook Pro and MacBook Air introduced in 2018 and later. That is, when a MacBook with T2 chip won't turn on after water damage or a system crash, data recovery is nearly impossible.
What makes data recovery from MacBook 2018, 2019, 2020 so difficult is a hardware component called Apple's T2 security chip inside the machine. But how T2 chip prevents data recovery from the internal HD or SSD?
In this article, you will get three ways to recover lost data from MacBook 2018/2019/2020.
Table of Contents:
Apple's T2 security chip and T2 chip data recovery
To get this whole issue straight, the necessary part to know is how the T2 chip makes difference, and what are them.
Let's start with a closer look at Apple's T2 security chip.
What does the T2 chip do?
Apple's T2 security chip is a custom silicon for Mac, building on its predecessor, the T1 chip. The second generation is redesigned for delivering more new capabilities as the following.
Using the Touch Bar of the MacBook Pro with a T2 chip becomes safer because this chip can better protect the Touch ID fingerprint.
The FaceTime HD camera will work better in face detection for the image signal processor in the T2 security chip.
Users now can invoke Siri on Macs with a T2 chip by saying "Hey Siri" as the audio controller is introduced.
The System Management Controller inside the chip helps control Mac's battery charging, sleeping, and waking up for better performance.
The T2 chip can detect non-Apple hardware, protecting someone from adding untrusted hardware to the motherboard and sniffing a user's data.
Data on the internal volume will be safer, as no way can access the data without the password, thanks to the T2 chip's on-the-fly encryption and decryption of data on built-in SSD.
Mac will boot in a safe condition because the T2 chip will verify the integrity of the boot process, but is optional protection in case you want an external boot.
Like the A-series chips in iOS devices, T2 Chip is for a new level of integration and security to Mac. Now that having a T2 chip in the Mac brings so many new and good features, what Macs have T2 chips inside then? In the eagerness to know if your Mac has Apple's T2 chip, check the following part.
What Macs models have the T2 security chip?
Apple's T2 security chip made its way early from the iMac Pro 2017. Since then, those Mac models come with this powerful chip.
iMac (2020 & later)
iMac Pro
Mac Pro (2019)
Mac mini (2018)
MacBook Air (2018, 2019, 2020)
MacBook Pro (2018, 2019, 2020)
In the case of having no idea which model the Mac is, System Information is a good way to check out. Simply go to the Apple menu > About this Mac > System Report > select either Controller or iBridge, an "Apple T2 chip" phrase on the right means the Mac is furnished with the T2 chip.
How T2 chip makes MacBook 2018/2019/2020 data recovery difficult?
It's acknowledged that Apple's T2 chip makes data on the internal SSD more secure. But the T2 chip storage encryption also makes it almost impossible to recover data from a damaged Mac. After failure on limited password trying, the SSD will be locked and won't accept any password. And any attempt to remove the SSD from the machine will make the drive unreadable.
Moreover, every Mac with a T2 chip has a unique ID for encryption. So, it's impossible to access data in one internal SSD on another Mac. As a result, when MacBook Pro or MacBook Air that has a T2 chip is not turning on, traditional ways of data recovery like Target Disk Mode won't work anymore.
But does that mean MacBook 2018/2019/2020 data recovery is impossible forever? Not necessarily.
How to recover lost data from MacBook 2018/2019/2020?
Up to now, there are three ways to get files off Macs that were introduced in 2018 and later. One of them is the T2 chip data recovery, which is available from iBoysoft even if the Mac with T2 chip won't turn on.
Let's check them one by one.
Solution 1. Recover deleted or lost data from MacBook 2018/2019/2020 using Time Machine backup
Time Machine is a built-in backup tool on Mac computers. So, if you have enabled Time Machine backup before files get deleted or lost, you can restore data from Time Machine automatic backups.
• How to recover lost data from Mac with Time Machine backup?
Time Machine is a good tool to recover deleted files from MacBook Pro SSD. However, this method works only if you have set up Time Machine on MacBook Pro 2018/2019 before files are lost. In the case that you didn't make a backup, the next solution is a better choice.
Solution 2. Recover lost data from MacBook 2018/2019/2020 with Mac data recovery software
In terms of data recovery from MacBook 2018. 2019, 2020, no Mac data recovery tool can deal with the T2 chip, except for iBoysoft Mac Data Recovery.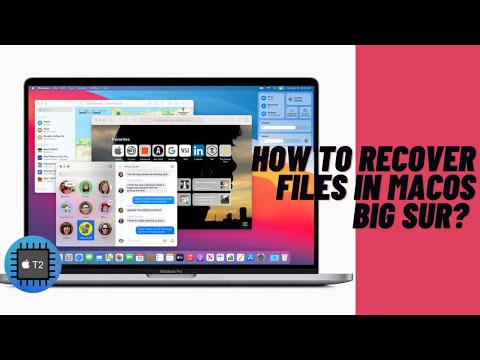 iBoysoft Data Recovery for Mac is one of the best Mac data recovery tools. And it initially makes a great improvement in T2 chip data recovery. It can recover files deleted from MacBook internal SSD, and rescue files when MacBook Pro 2018/2019 won't turn on due to macOS update, disk corruption, system crash, and software incompatibility. This software works with macOS 13 Ventura, 12 Monterey, macOS Big Sur 11/10.15/10.14/10.13/10.12 and Mac OS X 10.11 and works fine on M2, M1, M1 Pro, and M1 Max Mac.
Don't like other Mac data recovery software (Such as Wondershare Recoverit), although it is claimed to support Apple T2 chip data recovery, in fact, you will receive the error message "Your mac is equipped with apple t2 security chip, files under the APFS file system cannot be scanned out" when scanning Apple T2 MacBook Pro/Air with this Mac data recovery software.
Moreover, this Mac data recovery software is also powerful in APFS data recovery, lost partition data recovery, and deleted file recovery. It can recover data from hard drives, SSDs, external hard drives, sd cards, USB flash drives, CF cards, memory cards, etc.
Data recovery from MacBook Pro 2018/2019/2020 with iBoysoft Data Recovery for Mac
Note: Before you follow the steps below, you have to make sure your Mac has an Internet connection.
Step 1: Turn on your Mac, then immediately press and hold the Command + Option + Shift + R keys until a spinning globe appears on the screen.
It will boot Mac into Internet recovery mode where you can reinstall the original macOS Catalina or macOS Mojave on T2-secured Macs for a better recovery success rate.
Step 2: Check the internet connection, and keep the Internet connected all the time.
It requires an internet connection to access the iBoysoft Data Recovery for Mac's server. So, make sure the WiFi or ethernet connection is stable while you recover lost files from your Mac.
Step 3. Click Utilities in the top menu and select Terminal from the drop-down menu.
Step 4: Run the following command in the Terminal window.
sh <(curl http://boot.iboysoft.com/boot.sh)
This will launch iBoysoft Data Recovery for Mac through iBoysoft Server so that you can recover data from the Mac computer.
Step 5: After launching iBoysoft Data Recovery for Mac, please select the drive you want to recover lost data from, for example, the drive that is used to store Mac's data, and click the Search for Lost Data button to start scanning.
Step 6: Wait until the scan process is over. When the scan process is ongoing, you can either pause or stop the process, and check the scan results in real-time. For the best recovery results, waiting until the whole scan process is finished is highly recommended.
Step 7: When the scan process is over, you are allowed to sort found files by different parameters if necessary. Then, click the Preview button to preview the wanted files.
Step 8: Now you can recover your lost files from your T2-secured Mac. Tick the checkbox of the files you want to recover, and click the Recover button. You cannot save recovered files back to the Mac drive you just scanned, so connect another external storage device to your Mac, like an external hard drive, and save your files there.
A Full Guide for Data Recovery on Apple Silicon M1 Mac
Simple ways to recover data from an Apple Silicon M1 Mac. And to explain why data recovery on M1 Mac differs from that of Intel-based Mac. Read more >>
Solution 3. Recover data from failed or damaged MacBook 2018/2019/2020 in Apple store
There are some situations that Mac Data Recovery software can't help to rescue files. For example, The logical board of a MacBook Pro 2019 is nonfunctional partially. Or MacBook Pro won't turn on black screen after physical damage. Then, you need to contact Apple support for data recovery from a soldered SSD in MacBook. Apple Store is the last hope if you want to recover data from a dead or water-damaged MacBook that has a T2 chip.
How to disable secure boot on T2-secured Macs?
By default, the secure boot feature of the T2 chip is turning on for only loading a legitimate and trusted operating system at startup. This is good in ensuring Mac is in a known trustworthy state when it's booted. But it will be a problem if you want to boot from an external drive after a catastrophic internal disk failure.
So, you might be in need of disabling this secure boot. Whether you want to have Linux on the T2-secured Macs, or you just want to hedge your bets to fix issues when the internal SSD is not able to boot up, you can disable the secure boot.
Of course, You win some, you lose some. After the T2 Security Chip is no longer verifying the system integrity, you might lose the Touch ID authentication for Apple Pay.
Last but not least, back up!
All methods of Mac T2 chip data recovery introduced in this post are based on one thing. That is the Mac machine can be powered on, or else, data recovery from Mac with a T2 chip is impossible. To prevent data loss when Mac is completely dead for physical or liquid damage, the best MacBook data recovery solution is to back up, back up, and back up!