Summary: This page is about how to reinstall macOS Big Sur on M1 Mac. And this guide also helps you avoid and fix the errors that occurred during installing macOS on M1 Mac.
If you found that the current macOS performance of your Apple silicon Mac is not well, you can try to reinstall Mac OS to get a new start. Or when you failed to solve issues like MacBook won't turn on or frequent system crashes, you can try to reinstall macOS Big Sur or reset your M1 Mac.
Reinstalling macOS needs to pay much caution because it will decide whether your M1 Mac gets into a new state or becomes a brick.
No worries. Follow the detailed ways in this article to reinstall macOS Big Sur on your M1 Mac.
Reinstall macOS Big Sur in M1 Mac Recovery mode
If your M1 Mac can boot up but performs poorly, such as Mac runs slowly, you can try to use Disk Utility First Aid to repair the Mac hard drive. If it's useless, try to solve it by reinstalling macOS Big Sur.
First, you need to enter into Mac Recovery Mode:
Restart your M1 Mac and continue to press and hold the power button.
Release the keys until you see the hint "Loading startup options".
Select

Options

and click

Continue

.
Type your admin password when asked.
Then, you'll see the utilities in macOS Recovery mode as the above picture shows. You can use the Reinstall macOS Big Sur utility to finish the macOS Big Sur reinstallation on your M1 Mac.
With this approach, your personal data will remain on your computer after macOS reinstalling as long as you won't erase the data.
But for M1 Mac that won't boot due to internal hard drive inaccessible, unmountable, or other issues related to its file system, you need to erase your M1 Mac in Disk Utility. And then, reinstall macOS Big Sur.
The erasing procedure will make data loss. However, if you have a Time Machine backup, you can restore your M1 Mac with it.
How to avoid macOS reinstallation errors on M1 Mac
As the reinstallation process may occur some errors, macOS Big Sur won't resintall on M1 Mac. Hence, you should take care the following guidelines to enssure successful macOS Big Sur reinstallation:
Don't put your Mac to sleep or close its lid before the installation completing.
When asked to unlock your disk, type your login password for your M1 Mac.
Don't do any operation when you see that your Mac restart and show a progress bar several times or a blank screen for minutes. It's normal.
If no disk shown up for the installer or a message says that the installer can't install on your disk, erase your disk first. (Erasing disk will make data loss)
Causes and solutions for macOS reinstallation failure
However, you still failed to reinstall macOS Big Sur though you were careful enough. It might due to the bug of macOS Big Sur sometimes rather than your misoperations.
If you haven't updated to macOS 11.01 or later:
Your M1 Mac can't automatically switch to Internet Recovery mode though you've connected to the Internet when the recovery volume (contains a copy of macOS Big Sur) on the Internal disk is corrupted.
You can use other ways to reinstall macOS.
An error message may appear during macOS Big Sur reinstallation if you've erased your M1 Mac, like: "An error occurred preparing the update. Failed to personalize the software update. Please try again."
You can use the Apple Configurator 2 on the other Mac to revive or restore your M1 Mac
How to Reset M1 Mac to Factory Settings?
This post offers a complete guide about how to use Apple's Consigurator 2 to restore or revive your M1 Mac. Read more >>
Reinstall macOS on M1 Mac in Internet Recovery mode
For macOS Big Sur 11.01 & later, Internet Recovery mode is fully supported without bugs on M1 Mac. Once the macOS installer can't be reinstalled from the local recovery volume (Because it is corrupted) in Mac Recovery mode, it will automatically switch to Mac Internet Recovery Mode if you've connected to the Internet. Then, you can download the latest macOS Big Sur installer from the Internet and reinstall macOS.
Note: If you connected to a shared network like a hotel network, you might be unable to access the internet in macOS Recovery mode.
Other ways to reinstall macOS Big Sur on M1 Mac
If the above ways are not working for some reason, you can try the following ways as replacements.
Use Terminal in Mac Recovery mode to reinstall macOS
If you fail to reinstall macOS Big Sur neither with the Reinstall macOS feature in macOS Recovery mode nor from the Internet, using Terminal is an alternative.
Before using Terminal to reinstall macOS Big Sur, you need to back up or recover your data.
Note: Connect to Internet in Mac Recovery mode.
Type the following command in Terminal window and press

Return

.

resetpassword

Click the

Reset Password

 window. Then choose

Recovery Assistant

>

Erase Mac

.
Click

Erase Mac

again to make a confirmation. Then, your M1 Mac will restart automatically.
Select your language when required.
Click

macOS Utilities

when you see a message about "Your version of macOS must be reinstalled" to activate your M1 Mac.
Click

Exit to Recovery Utilities

after your Mac is activiated.
Select

Utilities

>

Terminal

again.
Type the commands as below and then press

Return

to download macOS Big Sur.

cd '/Volumes/Untitled'
mkdir -p private/tmp
cp -R '/Install macOS Big Sur.app' private/tmp
cd 'private/tmp/Install macOS Big Sur.app'
mkdir Contents/SharedSupport
curl -L -o Contents/SharedSupport/SharedSupport.dmg ~http://swcdn.apple.com/content/downloads/19/41/001-83532-A_LN5NT1FB2Z/o4zodwe2nhyl7dh6cbuokn9deyfgsiqysn/InstallAssistant.pkg~

Enter the following command in Terminal when the macOS downloading process is done. Then, press

Return

.

./Contents/MacOS/InstallAssistant_springboard

Follow the instructions to reinstall macOS Big Sur when the macOS installer opens.
Create and use a bootable installer to reinstall macOS
If the Mac Recovery Mode not working, creating a bootable installer by yourself. To create a bootable installer, you need to download macOS installation files on an external storage device formatted with Mac OS Extended via a healthy Mac. Then, install macOS Big Sur from the created bootable installer.
Here's a video to teach you how to create a bootable external drive and use it to boot your Mac. Come on watching this video now!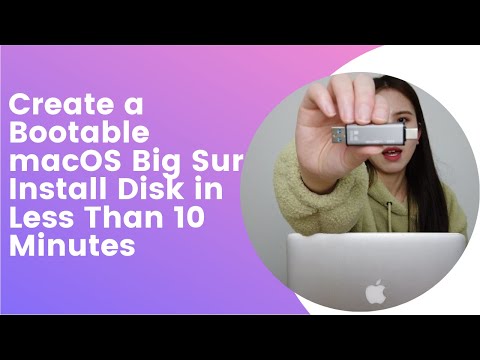 Reinstalling macOS Big Sur on an M1 Mac is something that looks simple but operates hard. Because the situation which you are in decides the macOS reinstalling way you'll choose. This article offers a complete guide to cater for almost all situations you may run into and help you reinstall macOS on M1 Mac successfully.